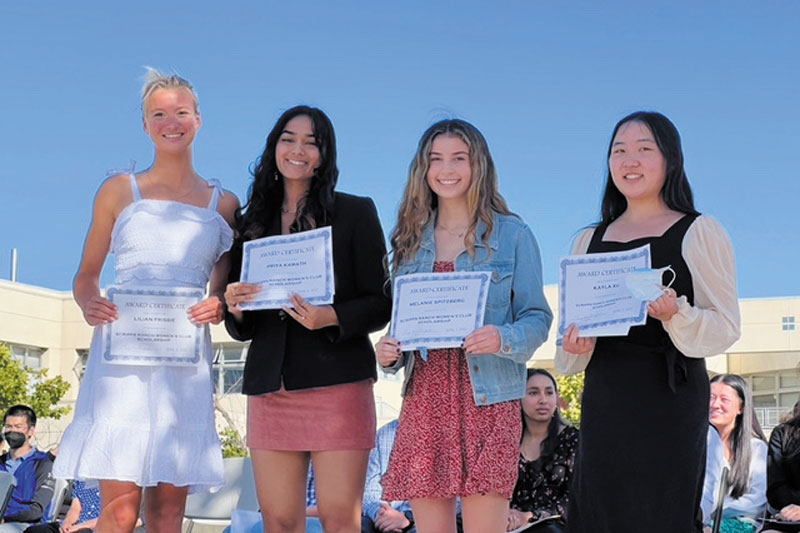 2023 college scholarship applications now available
General Scholarships
Each year, the Scripps Ranch Women's Club (SRWC) awards scholarships to female students graduating from Scripps Ranch High School (SRHS). This year, club member Sally B. Anderson is coordinating the process.
"The scholarships both recognize outstanding students and provide assistance in covering first year expenses," Sally explained.
In January, the SRHS Counseling Department will post the information about the scholarship. This information is also posted on the SRWC website. Applicants have until late March to submit all the documentation to the SRWC. Select Club members will review all applications and accompanying transcripts, letters of recommendation and personal essays to identify finalists to interview. The final selection will be made in early May, and the scholarships are awarded at the SRHS Scholarship Award Assembly at the end of the school year.
Successful applicants have a 3.5+ GPA, have applied to an accredited community college or university, demonstrate personal contributions to the community, and are active in school and/or community organizations. Last year, four scholarships were awarded to Lily Frisbie, Priya Kamath, Melanie Spitzberg and Kayla Xu.
Business Scholarship
The Kimbra Sellers Scholarship is awarded annually to one female graduating senior currently attending Scripps Ranch High School, or living in Scripps Ranch, planning to pursue a career in business, and applying to either a two or four year college.
Coordinating the process is Club member Lynn Parke. The process is the same as that of the General Scholarships, including the late March deadline for submitting all documentation to the SRWC.
The successful applicant will have a 3.0+ GPA and part time work or volunteer experience providing practical experience and demonstrating personal initiative. Additionally, she will submit a brief essay about her interest in business.
Lynn noted: "Each finalist will be interviewed by four Club members with business backgrounds who can offer perspective and advice, making it a fun exchange."
Last year the business scholarship was awarded to Melanie Spitzberg by Brian Sampson, Kimbra Sellers' husband.
For more information about the SRWC and Kimbra Sellers Scholarships, please visit srwomensclub.org/our-community-support.
Funding for STEM academic programs available to Scripps Ranch schools
The Scripps Ranch Women's Club (SRWC) makes annual financial awards to Scripps Ranch elementary and middle schools to support specific programs that encourage academic achievement. This year the Club is focusing on STEM programs that help our children develop strong analytic and observational skills.
Club member and STEM program coordinator Cindi Silady noted: "Even if the child does not become a STEM professional, engagement with these topics can foster greater curiosity and drive a lifelong passion for learning."
Cindi will work with Scripps Ranch elementary and middle schools to identify and recommend funding for one or more programs that encourage curiosity and interest in STEM. These programs can take any number of forms, e.g., field trip, hands-on learning tools, robotics kits or something other defined by the school. SRWC funding can supplement existing STEM programs or be used to launch a new initiative.
To be considered for a 2023 award, requests must be received no later than April 15. Schools can submit a request for funding by using the SRWC Donation Application found at https://srwomensclub.org/about-us. Schools are asked to note STEM on the request and are encouraged to attach additional information to describe the initiative more fully. For additional information or to discuss a project, schools can also contact Cindi Silady at cindi4realestate@gmail.com.