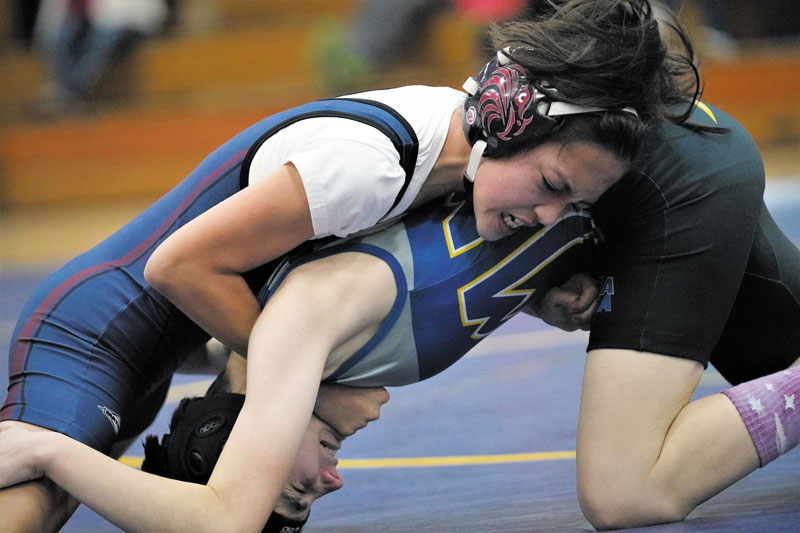 A warrior spirit
By Hector Trujillo
Sophomore Tatum Viramontes is one of the 10 girls on the Scripps Ranch High School wrestling team. She has wrestled in previous seasons and there is every reason to believe this will become a very memorable season for her and the rest of the team.
"I am very impressed with the whole lot of them," said head coach John Kreitzer. "At this point of the season, I think we have one or two that could make it to the state championships if they continue to improve at their current rates."
There are currently 14 weight classes for female wrestlers that range from 101 to 235 pounds, but this sport is more than just defeating an opponent on the mat, it is also about developing skills that make one successful in the long run as well.
"This sport teaches all student-athletes so much about themselves," Kreitzer said. "They learn about self-discipline, tenacity, hard work ethics, resilience, and setting and achieving goals. They learn about leadership, self-defense and physical fitness."
Kreitzer is one of the many voices who contend that girls wrestling should have been around from the beginning since female wrestlers have a warrior spirit and are not afraid of tough challenges, along with learning how to overcome adversity. Female wrestling was added as an Olympic sport back in 2004 and had been growing in terms of popularity with female mixed martial arts.
"Female college wrestling is growing exponentially across the country. Our girls have real shots at earning college scholarships for wrestling," Kreitzer said. "Our Scripps Ranch girls are tough. They are putting in the work, even more impressively than most of the boys, and I am super excited about where they will end up."
Female wrestlers can wrestle male wrestlers when they participate in duals or tournaments where there are not female-only brackets. Besides Viramontes, other Scripps Ranch High female wrestlers to keep an eye out for this season are sophomores Kayla Lincoln and Shaelon Hutchinson. Both wrestled in an off-season amateur wrestling tournament in Las Vegas on Oct. 16 and 17, with all three turning in impressive performances.