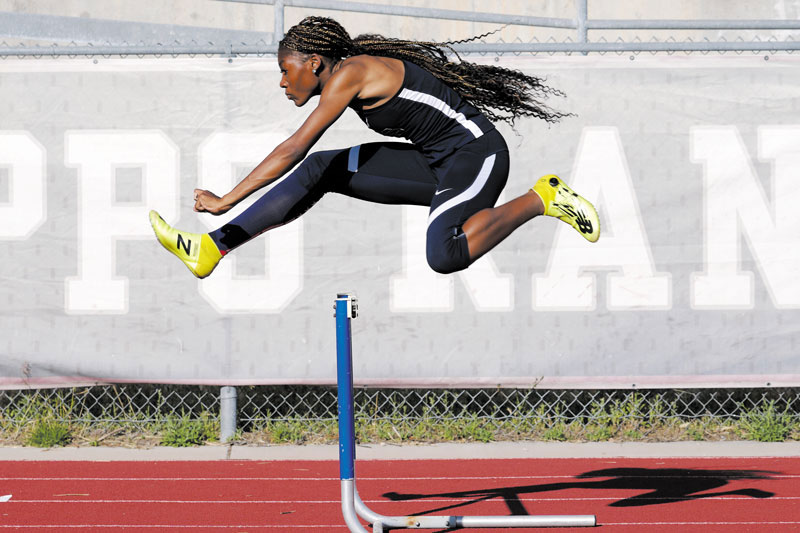 Aaliyah CAN FLY!
By Hector Trujillo
All great athletes have a calling early on to do what they were meant to do. This could not be more evident than in the case of Scripps Ranch High School (SRHS) senior Aaliyah McCormick who competes on the track and field team.
Besides setting personal records this year in the 100 meters, 200 meters and 100 meters hurdles, she has also helped her team with several standout performances in various meets this season.
"I started running when I was nine years old and I originally started racing the kids at my elementary school," McCormick said. "My teachers would tell my mom that I was super-fast, so she decided to put me in track."
McCormick committed to the University of Oregon, making her announcement on Jan. 16 at Hourglass Community Park in a locally televised event alongside family and friends. She chose Oregon over Nebraska and San Jose State, which were the other schools in the running.
"I committed to Oregon because, in my heart, I knew it was the best fit for me educationally and athletically," she said. "I knew that if I attended Oregon it would put me right on track for what I wanted to be and do for the rest of my life."
Among her most noteworthy moments during her time competing for SRHS is the accomplishment of becoming the number one hurdler in the state, as well as breaking her own school records multiple times.
"The best part of competing is the peace I feel when the gun goes off," McCormick said. "I wouldn't have gotten this far without my teammates and my coaches. They were the ones that believed in me when I didn't believe in myself – and for that, I thank them. I'm eternally grateful to call them more than teammates and coaches. They're family."
When she arrives at the University of Oregon, McCormick will be joining a program that has a long history of success in the sport. The Ducks' track and field program has a combined 22 outdoor and indoor national championships (12 for the men and 10 for the women) along with 39 conference championships (24 for the men and 15 for the women).
"Aaliyah is a model student-athlete. She demonstrates everything a captain should," said SRHS head track and field coach Kadrina Coffee. "Kind, thoughtful, encouraging and supportive. As a coach, I can't ask for anything more."