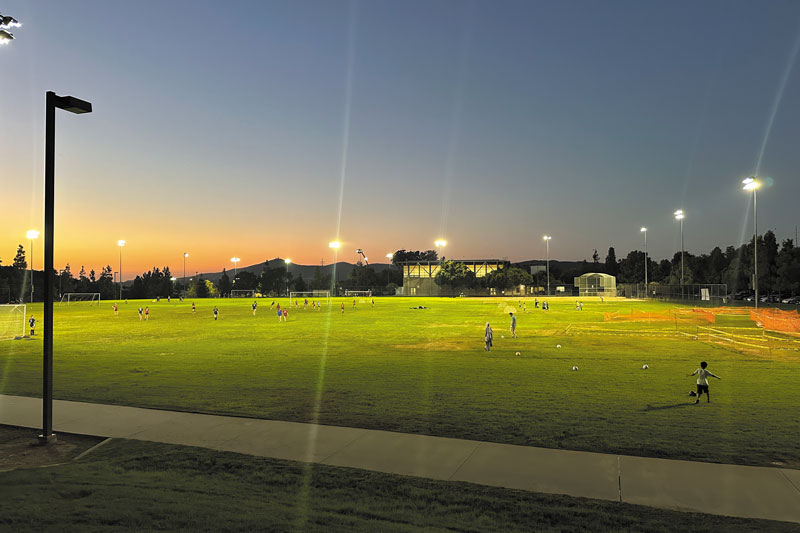 Are the lights ON or OFF?
  By Jill Alexander
Anyone planning to visit some of the parks in Scripps Ranch after dark might want to take a flashlight. Nighttime lighting problems are well-known among residents.
Longtime resident Jim Renner said in an email that he has not seen much progress in the two years since he started writing to City officials about lights being out at Scripps Ranch Community Park where he walks. But he noticed something in early October.
"All the 'sport' lights were on and there were several kids' soccer practices wrapping up," he stated via email. "The three 'streetlights' along the southern edge of the lower field were working again. Those lights were not on last night. Those three were the only streetlights working tonight."
San Diego Parks and Recreation Department provided a list detailing the lighting status of Scripps Ranch parks as of Oct. 6. This list was facilitated though the efforts of Anthony Santacroce, senior public information officer at the City of San Diego.
• Spring Canyon NP – There is a total of 30 lights, five needed repair and were repaired with LED ballast. The remaining light pole did not require ballast replacement at this time and has the standard ballast.
• Jerabek NP – no lighting issue.
• Fairbrook NP – No light issues.
• Scripps Ranch Community Park – (Musco) Light contractor repaired basketball court lights and redirected one light fixture due to reflection on the baseball field. Security walkway and parking lot light are out. Service Requests have been submitted.
• Miramar Overlook Park – No light issues.
• Cypress Canyon Park – One light bulb is out on the basketball court.
• Lakeview NP – No light issues.
• Stonebridge NP – No light issues.
• Hoyt Park – No light issues.
• Sycamore Canyon Park – No light issues.
While this report doesn't appear too gloomy, it differs from what Renner witnessed at Jerabek Park.
"I decided to check out Jerabek Park – completely dark except for the restrooms and the volleyball players who bring their own generator and light," he stated in an Oct. 4 email.
Reasons for the lack of lighting repairs reportedly include not enough City electricians to fix the problems or to install new bulbs, as well as keeping up with orders filed on the City's Get It Done App. The App is for residents who want to file an issue, or problem in their neighborhood.
Some City officials report lighting and hiring issues are an ongoing problem and will continue to be addressed.
"Ongoing streetlight issues like this one are a huge part of my reasoning for supporting changes to the City of San Diego's current hiring system. It is disjointed, outdated, and overly bureaucratic. It takes roughly 6-9 months for the City to hire new workers under this existing system," District 5 City Councilmember Marti von Wilpert said in an email statement. "We won't become an efficient City with the quantity and quality of electricians we need without a proposal like this. While we still need to make sure we hire people at competitive wages, leaving people in the hiring pipeline for four to six months means we lose out on quality candidates who find other jobs."
District 6 City Councilmember Kent Lee's office responded to questions with an email statement: "The team looked into if we have any parks in our portion of SR and they only know of a small community park and have not heard any issues about lighting there from constituents," stated Sara Kamiab, chief of staff, office of Councilmember Lee.
City staff will continue to address any lighting problems, Supervising Public Information Officer Santacroce stated.
"According to the Transportation Department's streetlight work, electrical staff will be in District 5 in December to attend to these park light outages," he said. "In the longer term, Parks and Recreation staff is working on completing a task order for a job order contractor to continue maintenance and repair at these parks in the future."