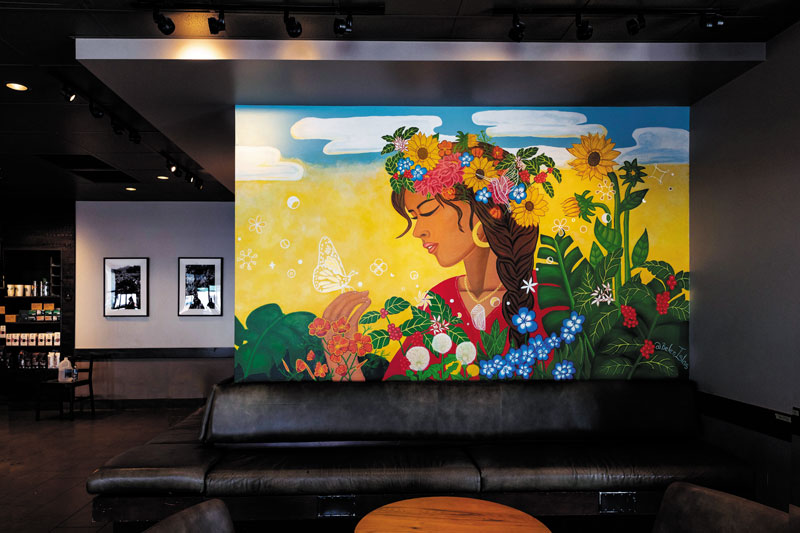 Artist accepts public art projects with meaning
By John Gregory
Scripps Ranch resident Belen Islas creates colorful, whimsical art that stirs the imagination. She strives to accept commissions for public art with a meaningful purpose and shows how art can be a helpful outlet. 
"The most important part for me about art is that art saved my life in many ways, and I want to help the community and everyone through my art," Islas said.
Her recent works include a mural in a Los Angeles Starbucks in an area that was recovering from a recent tragedy. She also completed a mural for the Spectrum Collaborative, an LGBTQ+ youth organization in Ventura County. This was produced with the support of the Ventura County Arts Council.
Another mural is in a Ventura County public garden in Oxnard that helps feed the aging population battling food insecurity.
She will soon work on another commissioned project for Starbucks.
"They usually give me the opportunity to really go into the community and talk to everyone and give something back through my art," Islas said.
She also accepted a project for a juvenile detention facility in Ventura County.
"I will work with the kids there. I will teach them how to create a mural and how it can be an outlet," she said. "I think those kids sometimes need some kind of love."
Islas has a degree in marketing from a university in Mexico and studied graphic design at UCLA after she moved to the U.S. several years ago. She moved to Scripps Ranch one and a half years ago with her husband Lonnie Eldridge, son Nano and daughter Italia.
Islas worked in graphic design for about 10 years before a life-changing event made her switch to a career in fine art.
"When I was pregnant with my daughter, it was a really difficult pregnancy.… I couldn't walk, I couldn't do anything. I was in bed the whole time, so I was losing my mind," Islas explained. "The only thing I was able to do was to sit and paint. So … I was just painting, painting and painting. I think that really saved me from losing my mind."
The most impactful circumstances occurred while she was giving birth.
"The day my daughter was born I was really physically weak, and I almost lost my life in the hospital. So, when I was in that moment that I knew maybe I will never meet my daughter, I promised myself that if I lived, if I survived this, I will change my life – I will do something that really will help others," she said. "I just thought … I want to do art that is significant and that could help others. So, I think for me, that was the most important moment of transition. And I think that's why my pieces and all that I do is always about the community, about helping others to understand that you can find your outlet to save your life, like art did for me."
Islas believes her path sends a message to others, including her family.
"I want my kids to know that I am doing something that I love, and that we can grow as a person and as a family through things that we love," she said.