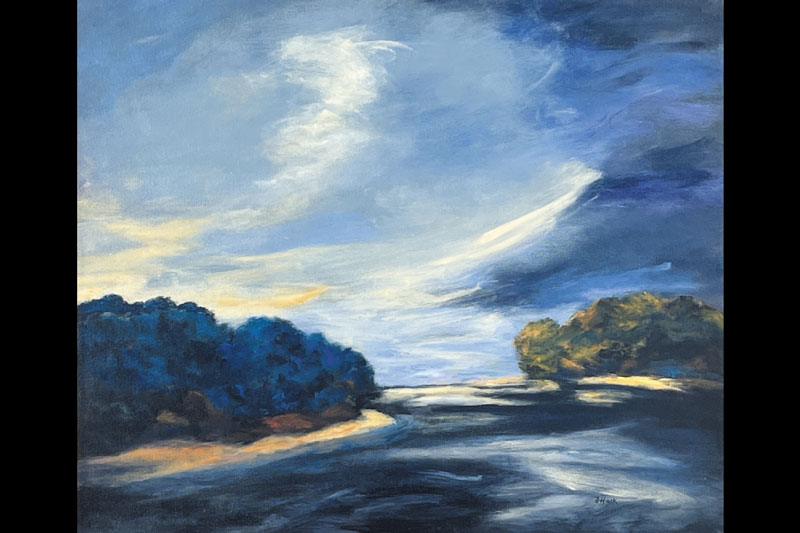 Artist wins second place 
Betty Hock, an artist and resident of Scripps Ranch, won Second Place in the July 2023 San Diego Watercolor Society (SDWS) Member's exhibition Where the Fun Is, an in-gallery show of the SDWS at Liberty Station. Hock's painting, titled "Beyond the Shallows," was selected by prominent local artist Roberta Dyer.
"This is a beautiful use of a limited palette. The darks and lights are strong and are in the right places for the composition," Dyer stated. "The dark shapes work to lift you up into the sky. There is a lot of mystery and feeling in it. This artist makes darkness work really well. The lights of the colors around the middle third of the painting are broken but there is still a line that they define. There is good separation of foreground, middle ground and background. A gorgeous, abstracted landscape."
Hock is a native of New York City and a graduate of The City University of New York. After a teaching career at the community college level, she resumed the art education she had started years earlier. Her work has since been accepted into many juried exhibitions and has won numerous awards. Her paintings are in private collections throughout the U.S. and other countries.
Hock said that though she's participated in many workshops and seminars, she essentially is a self-taught artist. She loved her teaching years, and now her art career provides another path for creativity and expression. Her paintings explore mood and mystery inspired by the natural world. The images come from reality, but it is mostly imagination that fuels their creation. Working between realistic expression and abstraction, she often focuses on light to define the mood – to reflect a stillness, to capture a moment. Her work can be found at bettyhockfineart.com.