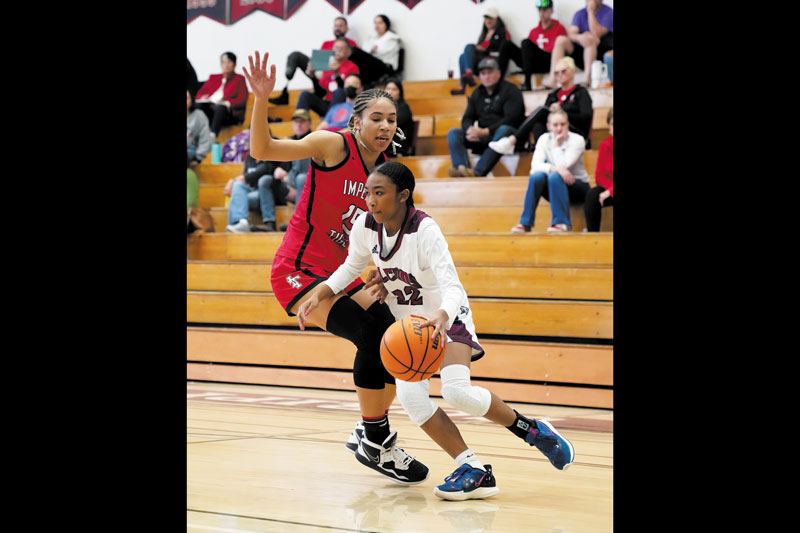 Basketball team is on winning pace
By Hector Trujillo
The Scripps Ranch High School womens basketball team is having another impressive season and is currently on pace to end with a better winning percentage than the remarkable 2022 season.
Last year, the Lady Falcons ended up winning 77 percent of their games while finishing 24-7 overall. 
Scripps Ranch opened up this season with three straight victories which included a 70-21 blowout of Crawford High School, followed by wins over Mira Mesa and Fallbrook.
"We're coming off a season where we lost our leading scorer and low post," said head coach James Stewart. "We will most likely be competing with Academy of Our Lady of Peace and Cathedral Catholic for the league title."
Scripps Ranch suffered its first defeat on Nov. 26 versus San Marcos High School but followed that up with a dramatic 71-65 double-overtime home victory over Poway on Nov. 30.
"Our goals are the same," Stewart said. "We have to win league and get a high seed in the playoffs."
After back to back loses to Del Norte and then Westview High School, the Lady Falcons were able to rebound by winning eight in a row. That streak  ended on Jan. 7 with a 45-37 loss to Imperial High School. But the team was again able to get back in stride thanks to back to back victories over Cathedral Catholic and then Lincoln High School.
Out of the five remaining regular season matches, four of them will be on the road starting with a game versus Patrick Henry on Jan. 27. Scripps Ranch then travels for a rematch against Cathedral Catholic on Jan. 31 before a home game versus Lincoln High School on Feb. 3. The final two matches will be on the road against Mater Dei on Feb. 4 and then the team will close out the regular season taking on Academy of Our Lady of Peace on Feb. 10.
The Lady Falcons have been guided by the performances of senior guard Jacqueline Riddle, who leads the team in assists and rebounds, along with junior Michelle Kramer who leads the team in scoring.
"We are also looking forward to continued success with freshman Clare Valentine and junior Daniela Sexenian growing every game providing a defensive presence," said Stewart, who has been at the helm since 2011.
During his tenure, the Lady Falcons have only had two losing seasons including the shortened one in 2020 which was severely impacted due to the COVID pandemic.