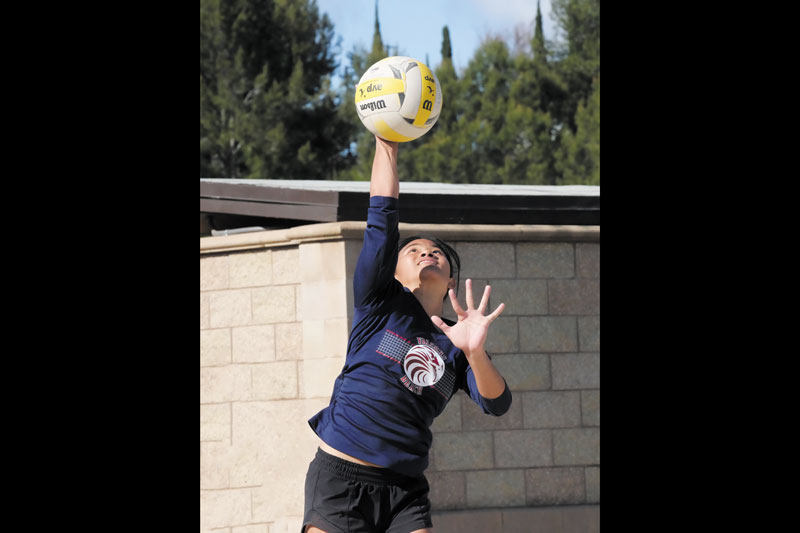 Beach volleyball impressive season ends
By Hector Trujillo
After going winless in 2022, the Scripps Ranch High School (SRHS) womens beach volleyball team ended this season with a 6-5 overall record and won its first postseason match.
The Lady Falcons entered as the ninth-seed in the CIF-SDS tournament and beat eighth-seeded Oceanside High School 5-0 in its April 26 playoff game before falling to Cathedral Catholic in the quarterfinals by the same score on May 2.
"As our second year as a CIF sport, we were so proud of the improvement of all of our players," said head coach Roni Hooper. "I attribute a lot of our success this year to having our own courts on campus. The players got to be more engaged in drills and do more match play during practice."
After losing the regular season opener to Cathedral Catholic High, Scripps Ranch won back to back games against Mt. Carmel High and Academy of Our Lady of Peace two days later. The Lady Falcons then dropped a nail-biter to University City High before losing to Point Loma High, but finished the regular season winning three of the final four games with victories over Coronado High, Clairemont High and Mission Bay High School.
The five playoff pairs for SRHS were sophomore Ella Fournier playing with junior Megan Chow; senior Lia Go-Soco playing with junior Lauren Peranignian; freshman Bryce Leatherwood playing with freshman Bailie Bishop; sophomore Riley O'Day playing with freshman Kristen White; and senior Rachel Rowin playing with freshman Elyse Taschner.
"We added new coaches this season who are all Scripps Ranch Volleyball Booster (SRVB) alumni with substantial beach experience," Hooper said. "I believe the favorite thing for the coaches about this season is watching each player grow as an individual and play high level beach volleyball. Last year we were focused so much on the basic skills and this year we were able to do more strategizing and learn more advanced beach skills."
Beach volleyball is now recognized as an official college sport for women and is among the fastest growing sports, and many colleges are starting to offer it as a mens club sport, too.
"I am so thrilled that they had a great season and the amount of girls who turned out to play beach volleyball," said Scripps Ranch High School boys volleyball coach Lance Taschner. "It's so exciting to see all the kids having a fun time on the beach courts."
Taschner and his wife Judy helped bring beach volleyball courts to SRHS in 2022.