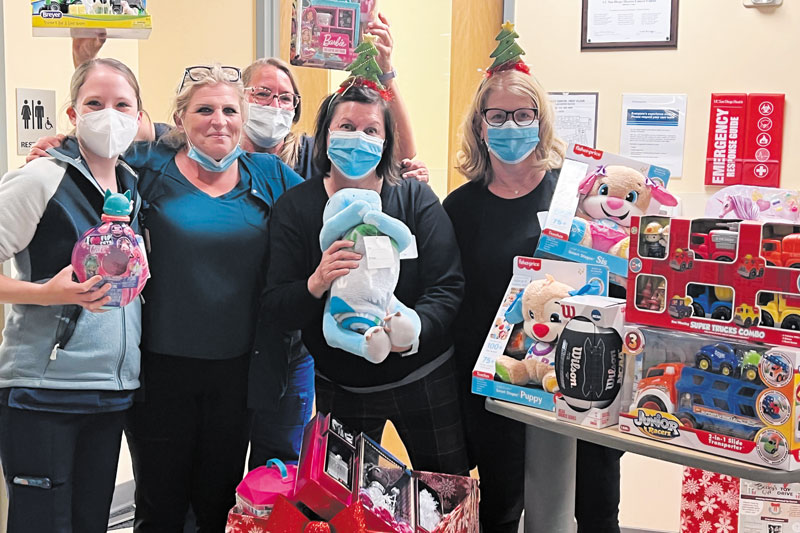 Becky's Gift Toy Drive begins
The 14th annual Becky's Gift Toy Drive will begin Nov. 1 to help families fighting cancer during the holiday season. 
Thanks to the Scripps Ranch community, this program has surpassed its goals each year and successfully delivered loads of toys to four local cancer centers in San Diego: UCSD Moores Cancer Center, UCSD Komen Breast Cancer Infusion Center, Medical Oncology Associates of San Diego and South County Hematology Oncology.
It is emotionally, physically and financially difficult for families with one of its members going through cancer treatment during this time of year. Becky's Gift allows families affected by cancer to choose a toy for their children or grandchildren during the holidays while undergoing treatment. It's best for the cancer patient to focus on their treatment and health, and not have to worry about the pressures of the season. Becky's Gift organizers want them to know their child or grandchild will have a gift. 
Those wishing to donate will help Becky's Gift surpass the organization's goal of 1,000 toys this year.
Becky's Gift will start collecting early this year to start delivering toys beginning Thanksgiving week. Volunteers will start collecting toys for Becky's Gift on Nov. 1. Becky's Gift will accept donations of new, unwrapped toys for children ages 1-16 years old. Monetary donations and gift cards are also accepted. For easy shopping, look for the Becky's Gift Amazon wish list link on the Facebook page. This includes free delivery directly to Becky's Gift.
Toys can be dropped off at Scripps Rock Dental , 12112 Scripps Summit Drive, Suite C.; Fitness Quest 10, 9972 Scripps Ranch Blvd.; or St. Gregory the Great Catholic School, 15315 Stonebridge Parkway. For more information, contact Becky Walton at beckywalton@san.rr.com or Christie Jackson at christie@jacksonlane.com.
If you would like to host a toy drive at work, school or in your neighborhood, send a message to the email addresses above and Becky's Gift will deliver flyers and a collection box to you.
Toy collection will continue until Dec. 15.
For more information, visit the Facebook page www.facebook.com/BeckysGift.