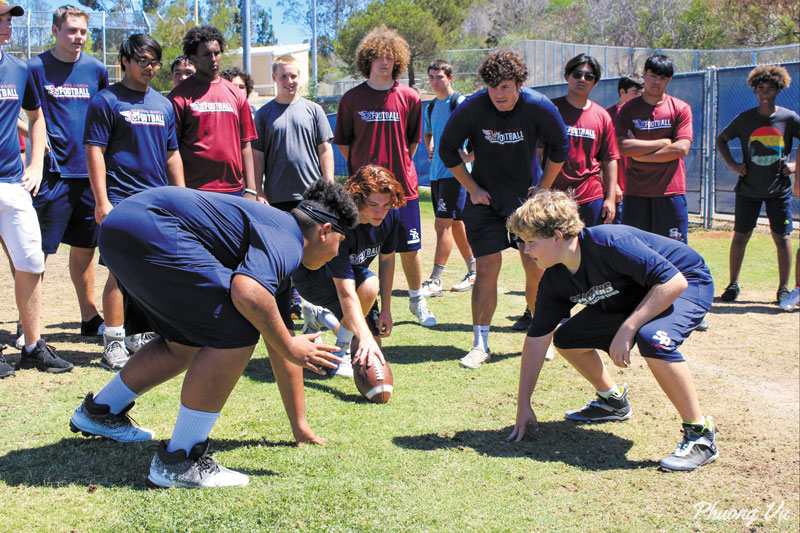 Big Brothers guide young Falcons
By Hector Trujillo
The Scripps Ranch High School (SRHS) Big Brothers and Little Brothers program is one that makes a
positive difference with a Scripps Ranch Pop Warner Football student athlete being paired with a high school student athlete.
This allows each to foster a personal connection which includes attending each other's games in order to provide not just encouragement but also mentorship in various areas including grades, behavior and fundamental principles of how to be successful later on.
"They talk about all the principles and things we teach at the high school, trying to give them a heads up of what's important," said SRHS head football coach Marlon Gardinera. "We try to accentuate that link to make it more valuable and more meaningful along with making it more personal, because those guys
and gals will eventually be Falcons."
Gardinera, who is a former Pop Warner coach and football director, has been coaching at SRHS for six years, although the program itself started long before his arrival.
As part of the program, the school holds an annual Pop Warner Football Night, with its most recent iteration having occurred on Sept. 2. That was when the Pop Warner players got a chance to run on to the field alongside the varsity players before the game. In this case, it may have provided Scripps Ranch a valuable touch of good luck as the team went on to beat Patrick Henry 21-14 for its first win of the season.
"It was the same for me at Pop Warner as it is in the high school," Gardinera said. "When you're coaching kids, it isn't really just about football. Football gives you an opportunity to teach very unique lessons and, when you have good coaches, that happens when they're as little as five all the way through the time they get out of high school."
A star athlete during his time playing football and baseball at Mission Bay High School, Gardinera had the honor of playing baseball for head coach Dennis Pugh. He then went on to play at San Diego Mesa College before moving on to Oklahoma State and was  a late-round draft pick of the Houston Astros.
"Football is about hard-work, discipline, accountability, commitment and dealing with adversity," Gardinera said. "It's about learning what the true meaning of 'team' is and learning how to compete. As we tell our kids at the high school level, that recipe works in everything you do. So, football is one of those places where they get to exhibit each and every one of those skills."