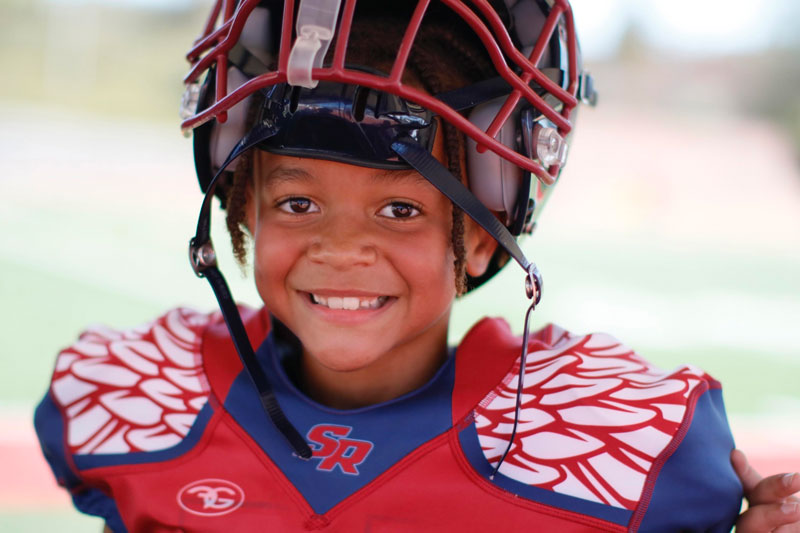 Braylon Bishop is an inspirational athlete
By Hector Trujillo
The story of young Braylon Bishop is one that will resonate with those old enough to remember the inspirational story of Major League Baseball pitcher Jim Abbott who had an impressive 11-year career which included throwing a no-hitter in 1993 for the New York Yankees – despite being born without a right hand. Nine-year-old Braylon had his foot amputated at the age of 1 due to a condition called proximal femoral focal deficiency (PFFD), forcing him to use a prosthetic leg while given a low chance of ever walking unassisted. This rare condition affects about one in every 200,000 children and varies in severity from child to child.
None of this has stopped young Braylon from playing quarterback for the Scripps Ranch Pop Warner Football (SRPW) 9U team this season.
"Braylon's energy and enthusiasm inspires us all," said coach Gary Harrison. "He gives 100 percent on every play. I think everyone on the field with Braylon can take inspiration from him with his perseverance and determination."
Braylon was a fast learner and quickly picked up all the fine details that such a demanding position like quarterback requires. Despite enduring other obstacles which included previously being part of a league that did not give him much playing time, this did not dissuade Braylon from persevering and continuing to compete.
"He was seen as an obstacle by some and did not get many opportunities to prove himself on the field," said mother Corrina Bessenbacher. "We knew we had to find a program that would give him a chance. Scripps Ranch Pop Warner was recommended to us, so we reached out to them."
It was there that coach Harrison and SRPW President Krista Clausen welcomed Braylon and his family with open arms into the program.
Braylon's stepfather, Michael Bethea, has also been instrumental in his development, assisting with pass and drop back techniques at home. This has already yielded results as Braylon threw the team's first touchdown pass.
"In first year of tackle football we let players pick their preferred position and our coaching staff does its best to accommodate," Harrison said. "Braylon told me he wanted to play quarterback and so we let him go after it. He has done an outstanding job."
Harrison has coached youth football in the Scripps Ranch community for 15 years, including having served as Scripps Ranch High School's varsity offensive coordinator during the team's first ever undefeated regular season in school history.
"Sometimes Braylon gets knocked down, but he pops back up so fast and keeps playing," said teammate Luke Harrison.
Among the things that coaches and teammates noticed is that Braylon has never set limits on himself even during drills and full speed practices.
"On gamedays, the opposing teams, fans, coaches and even referees are impressed with his hustle," Harrison said.
Time will tell what heights Braylon can reach playing quarterback, but don't be surprised if he leaves the same mark on football as Jim Abbott did on baseball.