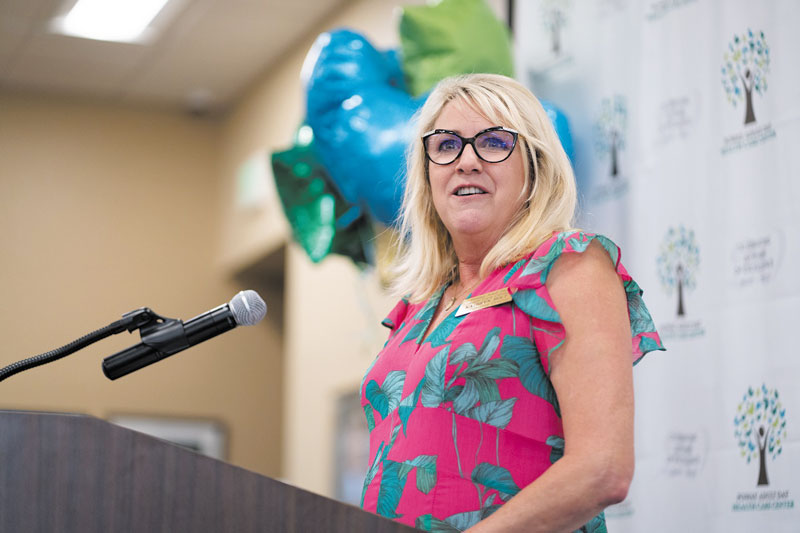 Center founder reaches milestone
By Jill Alexander
Twenty years ago, crooner Frank Sinatra died, "Titanic" won 11 Oscars at the 70th Academy Awards and Scripps Ranch resident Kathy Holt founded Poway Adult Day Health Care Center in 2002.
Her adult daycare program provides a structured, individualized set of therapeutic activities developed to enhance mental and physical functioning. It's designed for older adults who require assistance with activities of daily living and those who have certain medical conditions that require monitoring
and supervision. 
"The program increases social opportunities and cognitive stimulation for those who may experience memory loss and physical decline as well as Alzheimer's or another form of dementia," said Holt, who was an elementary school teacher for 15 years before changing her career to elder care.
The center celebrated its 20th anniversary on Aug. 25.
Holt said reaching 20 years of service was a huge accomplishment given the numerous hurdles the program faced over the years. It was a big step for her to change careers as well. She left her teaching career of 15 years after becoming her grandmother's primary caregiver during the last four years of her life.
"Through my caregiving journey I learned of adult day health care as a long-term model of care that allows families like mine to keep their loved one in the home environment as long as possible," Holt said.
There have been countless families that said without the services that the program provides, they would not have been able to continue caring for their loved ones at home and would have been forced to place them in long-term care facilities, Holt said. 
The best part of what she does is seeing "how we can improve the quality of life for our clients and their caregivers. This season of life can be very difficult, and we can bring more joy-filled moments into their days and help them to feel as though they are not alone," Holt said.
Holt and her husband Bill moved to Scripps Ranch in 1998 when their oldest daughter was 5 years old and entering kindergarten at Jerabek Elementary School.