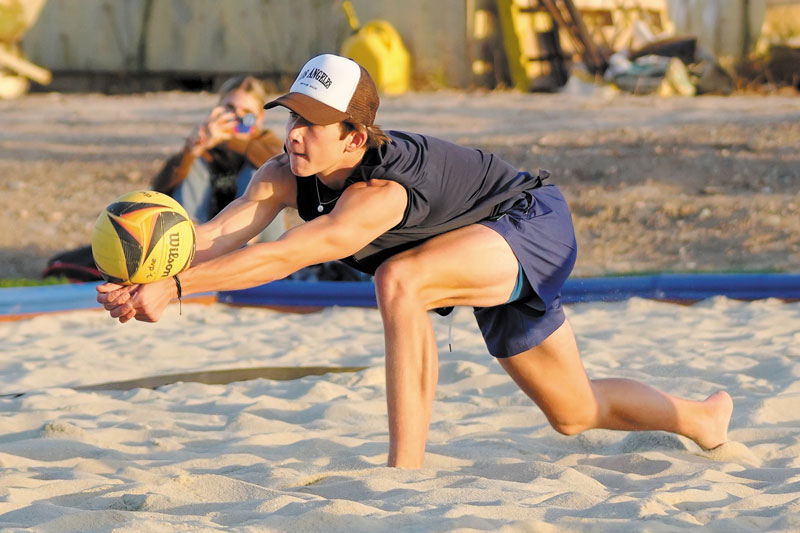 CHAMPS: Beach volleyball team 
By Hector Trujillo
Scripps Ranch High School (SRHS) closed out an impressive playoff run and undefeated season by beating Torrey Pines High School 3-2 in the open division beach volleyball finals on Oct. 28.
What made the achievement even more improbable was the fact that the SRHS campus was officially approved for excavation for beach volleyball in August of this year with steps that included filling the courts with sand and putting in the volleyball equipment immediately after.
"The boys team was loaded with a lot of seniors," said head coach Lance Taschner. "I ultimately think that leadership and years of camaraderie helped propel us to a championship."
Scripps Ranch won its quarterfinal match against Carlsbad High 4-1 and followed up with a dramatic 3-2
victory over Cathedral Catholic High.
The final set in the semis was decided  by a 16-14 score thanks to  back to back aces by Liam Hunter, which earned the team a spot in the championship match.
"It was an amazing season headlined by the community rallying together to help fund the beach courts and get them built just in time to start the season," Judy Taschner said. "It allowed the team and school to have a place to practice their beach craft on a daily basis. The beach courts have blossomed into an area the students can use on a year round basis; and as the boys season just finished, the girls
can look forward to their season in the spring."
Besides Hunter's performance against Cathedral Catholic, the team got an inspirational effort from Aidan Daza who came up with key plays throughout the postseason.
The first team of Blake Taschner and Ethan Hornyak had to tangle with the best players from the opposing side throughout the season, winning numerous tough league matches to help Scripps Ranch finish undefeated.
The second team of Daniel Stankoulov and Ryan Rodil also came up big and never lost a match all season despite Rodil dealing with cramping in the finals, but pushing through on the way to victory.
The third team of Brody Erickson and Jett Reyes consistently dominated its opponents in its respective slot, using a large reservoir of volleyball knowledge and outstanding athletic skills.
"It was an amazing season filled with a bunch of seniors who have paved the way for an abundance of underclassmen who joined the program this season," Judy Taschner said. "Scripps has a bright future in beach volleyball and some amazing courts to practice getting better."