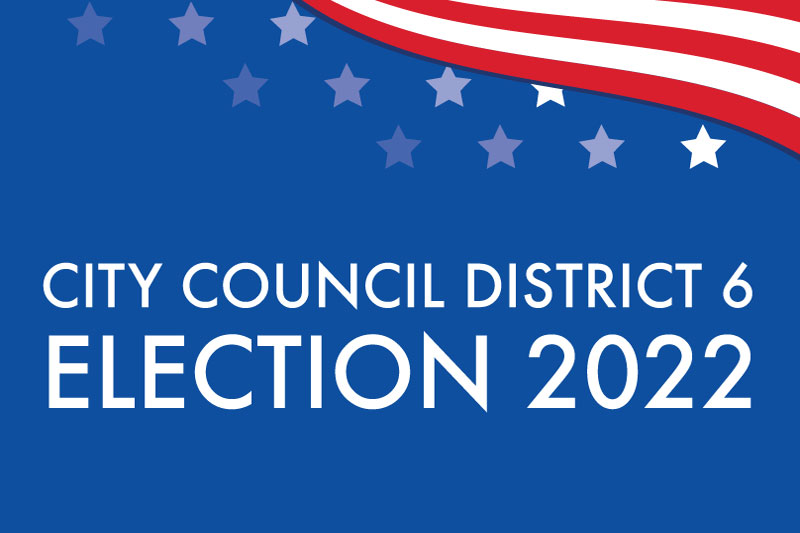 City Council District 6 Election 2022
By Jill Alexander
Candidate Tommy Hough 
Tommy Hough is an environmental advocate, San Diego planning commissioner and former radio broadcaster. He hopes to be elected to the San Diego City Council District 6 seat on Nov. 8.
Running is nothing new to Hough as he ran unsuccessfully for the same position in 2018, against Chris Cate. Hough said he's running again, and his focus is on the challenges San Diego neighborhoods, including Scripps Ranch, face now and before the COVID pandemic.
"For too long our District 6 council seat has been co-opted by downtown special interests, leaving communities without a voice fighting for them at San Diego City Hall. We need our roads rebuilt, we need housing people can afford, and we need parks and libraries restored," he said.
Hough added that the district also needs to preserve canyons and open spaces, and if he wins, he will address these issues.
"I'm running for San Diego City Council because our community suffers from decades of deferred maintenance in the form of broken streets that must be rebuilt, ineffective and too few transit options, needed streetlights, and persistent public safety concerns," he said. "We need effective planning now to manage how new housing is built so we're not adding more traffic to our congested streets, and now that we've lost our developer impact fees, we must lean on the city and developers to ensure new developments have more than adequate amounts of park space and services for new residents. But first, we must restore our infrastructure before it fails further."
Hough is also running for San Diego City Council because San Diego is in the midst of a homeless crisis that needs solutions, with permanent supportive housing being key, he said.
Hough said he is also committed to fulfilling the Climate Action Plan, preserving the diverse environment, providing unleaded fuel at municipal airports, ensuring the implementation of Pure Water, expanding rooftop solar access for those who want it, and capturing and treating stormwater so the area's creeks, beaches and bays are no longer toxic during stormy weather.
Hough said he would like Scripps Ranch residents to know that he "stands with ratepayers rather than shareholders," and that he believes in "neighborhoods first" with safe streets and sidewalks, healthy canyons, vibrant neighborhoods and restored infrastructure.
Hough added that he will do all in his power to address and focus on these issues if elected on Nov. 8. 
---
Candidate Kent Lee 
Kent Lee is a first-time District 6 City Council candidate and non-profit arts executive director of Pacific Arts Movement.
"We have the opportunity to build a stronger, more compassionate and more inclusive San Diego," Lee said. "There is so much work to be done to ensure representation, address inequities locally and beyond, and include voices that will help instill hope in our future. I'm committed to leading this charge."
The first-generation American with 15 years of nonprofit management experience is a board member of the Mira Mesa Community Planning Group, co-chairs the San Diego API Coalition and is a member of the UC San Diego Chancellor's Community Advisory Board. Lee and his wife Phuong have two young children and live in Mira Mesa.
"As a father of two toddlers, in a home where my wife and I work to support our family, I know all too well the financial hardships we are all enduring with high gas prices, groceries and to keep a roof over our heads. Navigating us out of these tough economic times requires community-trusted experience and leadership that will work hard for families, small businesses and all San Diegans," he said.
If elected, Lee said he will get to work on these challenges in the district – including Scripps Ranch – challenges such as fighting for strategic and common sense infrastructure needs by investing in streets, libraries and parks; increasing housing attainability at all income levels, especially middle- to low-income housing; finding innovative ways to partner with the diverse small business community to spur economic growth; and addressing homelessness with compassionate solutions.
Street racing is also an issue in many city streets and local neighborhoods that needs to be addressed, Lee said, as well as understanding "more about fire prevention and meeting the challenges related to wildfires in Scripps Ranch."
Lee said he wants voters in Scripps Ranch to know he has been a 15-year resident in the district and wants to serve as a community voice for those young families with children like his, as well as all other residents.
"More than ever, I am a believer that we need to bring people together and bring common solutions to the problems we are facing. We shouldn't be focused on politics alone but on solving important issues," he said.
---
DISTRICT 6 ELECTION FACTS
Scripps Ranch residents whose homes are within the new District 6 San Diego City Council boundaries will be able to vote for a new representative in the General Election on Nov. 8. Some residents are now in District 6 because new boundaries based on census population figures, and drawn by a redistricting commission, were approved. This resulted in some Scripps Ranch neighborhoods landing within District 6 while the rest remain in District 5, which is represented by Marni von Wilpert. Sitting District 6 Councilperson Chris Cate is termed out, thus an election is being held now between two candidates for the soon-to-be vacant seat in District 6.
To view the City Council district boundaries, visit bit.ly/3LcQC6O and click + on the upper right corner to expand the map; or type in your address.
For more about the election, visit sdvote.com.