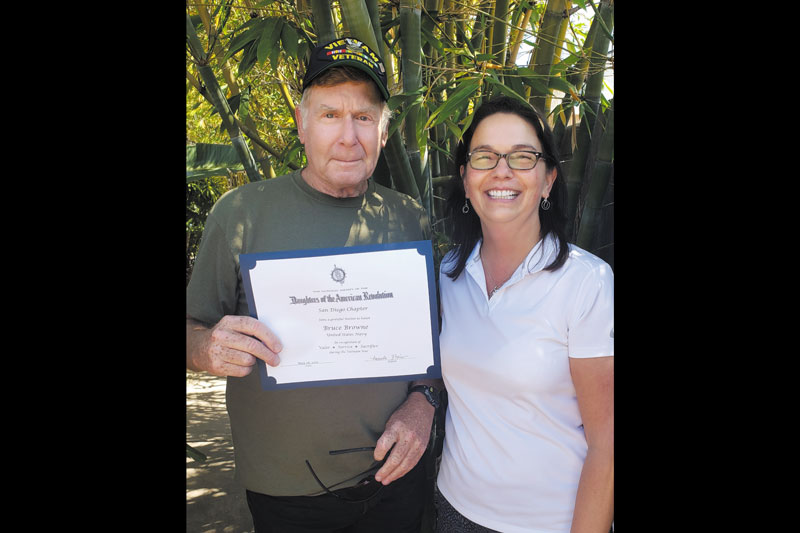 DAR organization honors Vietnam veterans
By Ashley Shah
The Daughters of the American Revolution (DAR), founded in 1890, is an organization that strives to support patriotism and veterans.
The organization has more than 1,750 chapters across the United States. The San Diego chapter, which includes the Scripps Ranch area, was founded in 1910 and has more than 200 members.
Alongside the other chapters across the nation, the San Diego chapter is currently honoring Vietnam War veterans.
"Because the 50th anniversary of the Vietnam War ending is coming up in 2025, we wanted to honor the veterans who served in that war. We want those veterans to know that while they might not have come home to a warm welcome back then, their service does matter," said DAR member Brook Logan, a Scripps Ranch resident.
The organization is honoring veterans by handing them a certificate that reads, "The Daughters of the American Revolution is recognizing you in your service during the Vietnam War."
"I've lived in Scripps Ranch for about 23 years and my mailman, Bruce Browne, who is well-known in the community, served in the Vietnam War," Logan said. "When I heard that we were honoring veterans, Bruce is the first person I thought of. I was able to get him a certificate and it was nice to see him recognized. He said he was going to frame it."
The DAR program Honoring the Vietnam veterans will continue until 2025.
"We are honoring veterans by word of mouth. So far we have been able to honor four veterans in the San Diego area," Logan said.
The organization does other acts of service for veterans and those on active duty. In the past, DAR members have made care packages for active duty military, helped out at the Veterans Village, raised funds for veterans in need of motorized vehicles and placed wreaths on the tombstones of veterans.
Not only do they support veterans and those on active duty, but they strive to educate the youth. They hold essay writing contests for grades 5-8 to encourage students to look into U.S. history and learn. Winners of these contests from each grade level receive a medal, recognition and a scholarship.
As of now, the San Diego chapter is mainly focusing on honoring veterans; however, members are planning their DAR day of service in October. The DAR day of service is to celebrate the day the organization was founded on Oct. 11.
"Last year, we had a very successful food drive and are now planning for this year's project," Logan said.
To join the DAR, a woman must have some direct family lineage to someone who fought for U.S. independence or supported the effort during the American Revolution.
"I was really lucky in the sense that I was looking into my family tree and saw that I had someone who fought in the American Revolution. I was able to join after providing the necessary certificates of birth, marriage, and death," Logan said. "We are a service organization of like-minded women who just want to help others out and who also have an appreciation for our history," Logan said.
The organization meets once a month from September to June at the Admiral Baker Clubhouse. Throughout COVID, meetings were held via Zoom.
"In our meetings, we bring in speakers to talk and educate us on significant events that happened in history. We learn about forgotten history," Logan said.
For more information about the San Diego chapter, visit sandiego.californiadar.org/index.php/about-dar.