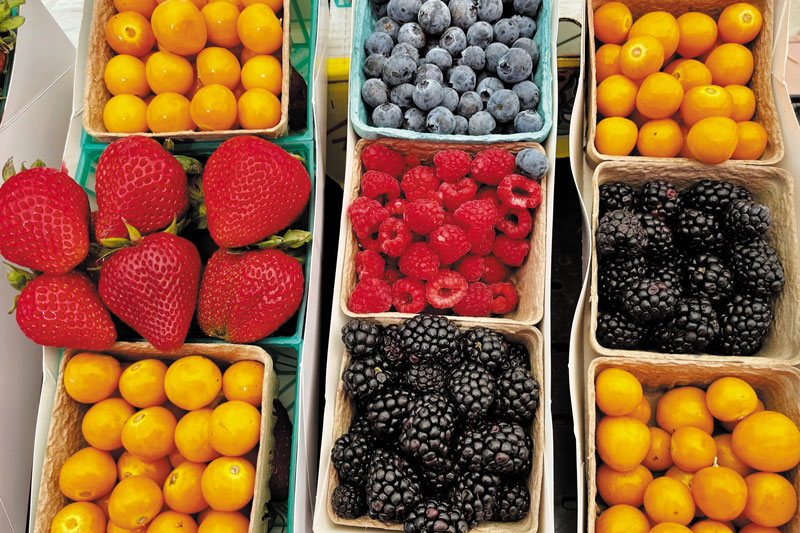 Don't forget about the Farmer's Market
By John Gregory
The "new" Scripps Ranch Farmer's Market is open and offers a wide assortment of foods and other items for sale including – yes – fresh produce and flowers from nearby California farmers. 
It's important to remind folks that the Farmer's Market is open since it's easy to forget what we have right here in the midst of Scripps Ranch due to our busy lives and responsibilities.
But the Scripps Ranch Farmer's Market provides not only a temporary sanctuary from the stress of everyday life, it provides a solution to many daily dilemmas. Some of these include:
• What can I feed my family tonight?
• Where can I get healthy ingredients for family meals?
• Where can I take my kids to let them run off some of their energy?
• Where can my family go to just relax and take a breath?
Parents can take their children from school pick-up directly to the Farmer's Market. It's a good way to beat the later crowds, visit friends, and it provides the youngsters a nice break before they begin their homework.
The Scripps Ranch Farmer's Market is the only live, weekly "family festival" that takes place each week in this community. It even provides live music. It's an incredible bonus for those who live here.
There was a gaping hole in the culture of Scripps Ranch when the former Farmer's Market was forced to close because the lot in which it was operating was scheduled for redevelopment and construction. The closure occurred in October 2018.
This year, the "new" Farmer's Market was able to open in May and did so with a large wave of approval from local residents who enjoyed the former market and wanted to keep that experience as part of their life here.
The former Farmer's Market held a Halloween celebration for children on its last day of operation in 2018. It was a wonderful day with a huge turnout.
Coincidentally, the "new" Scripps Ranch Farmer's Market is holding another special Halloween celebration, this time on Oct. 28. "Trick or Treat Day" at the Farmer's Market promises to be a great time for children as well as parents.
Fortunately, the Farmer's Market has been resurrected and its new configuration is popular. The vendors are high-quality and the selection is most impressive.
Plenty of parking: There is ample parking since Cabrillo Credit Union allows market customers to park in its lot to the east of Newtopia Cyder. Now, hundreds more parking spaces are also available across Carroll Canyon Road in the National University parking lot, and crossing Carroll Canyon Road to get to the market has not been a problem for shoppers.
The Scripps Ranch Farmer's Market is held from 3 to 7 p.m. each Thursday at 10045 Carroll Canyon Road (next to Newtopia Cyder).