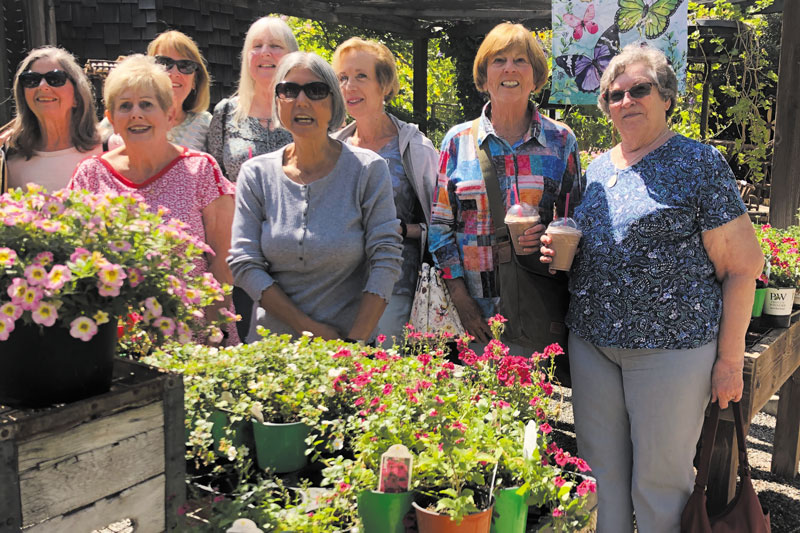 Enjoying friends is Welcome Club's focus 
By Denise Stewart 
Maybe you enjoy a group walk along the trails through the eucalyptus. Or perhaps a card game with some treats brings you pleasure. Then there are those of us who relish lunch and a movie. An evening at the local theater delights many. A lively book discussion brings a smile to avid readers' faces. Making useful and decorative crafts fills some with creative satisfaction. But the simplest event of drinking coffee and chatting with friends brings out the biggest and most enthusiastic bunch of Welcome Club women. 
June has been a busy month with all the activities that are regular events on the Welcome Club's calendar. The notable highlights for the month included a viewing of the long-awaited film "Downton Abbey" at a local theater. Since many of the members were fans of the PBS television series, the big screen event was a real treat.
The second highlight was a Coffee Klatch in the community park. It brought out the ladies who enjoy socializing and sharing a cuppa together. With the pleasant spring weather adding to the warmth of being surrounded by friends, it was a delightful way to celebrate the season.
Another highlight was a TGI evening gathering at a member's garden for dinner and drinks. The potluck part of the TGI always brings out the best culinary skills of club members who enjoy cooking. The mixing and mingling always brings out the best social skills of the friendly group.
Coming up in July, Welcome Club will have its annual Salad Supper. Celebrating with delicious salads
and sweet desserts, this event has been a club tradition for decades. After dinner, a raffle will dazzle the crowd with baskets of gifts and goodies that grow more elaborate each year. Polka Dots and Flip Flops is the party theme for dress and prizes for 2022, according to JoAnn Farmen, who is chairing the event.
Welcome Club meets at the Scripps Ranch Community Center on the evening of the second Monday each month. Programs and activities at the gathering vary from month to month. June's meeting featured a speaker from Scripps Ranch Theatre who shared highlights of the upcoming plays slated for the fall. Since Welcome Club supports the theatre both monetarily and with regular  attendance at the performances, it was both an informative and entertaining event.
In addition to the local theater, Welcome Club has donated to the Symphony in the Park committee and attended as a group to enjoy this season's first performance. The Heroes, a traditional favorite, led off the season for the community-wide festivity.
Welcome Club has a website for those who would like to learn more about the social group that began back in the 1980s: scrippsranchwelcomeclub.com will provide you with information. And you are welcome to join the circle of friends.