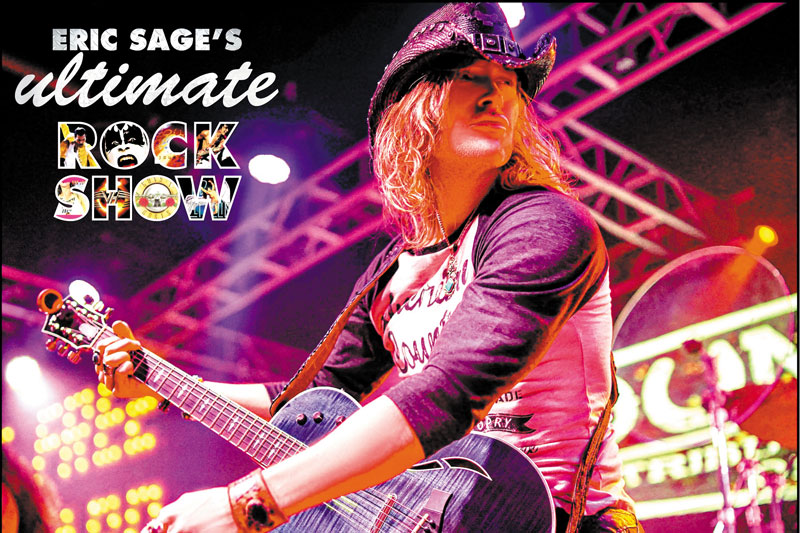 Eric Sage's Ultimate Rock Show will rock the park
By Terry L. Wilson
Another exciting night of music comes to the Scripps Ranch Symphony in the Park concert series when Eric Sage's Ultimate Rock Show hits the stage on Sept. 11 at Hoyt Park.
"We are a fun, party rock band playing anthems from the '70s and '80s, and we throw in music from the '60s and '90s," Sage said. "We want to make sure that we have something special that brings back great musical memories for everyone in the audience. Like everyone else, when I was younger I'd listen to those songs. They bring back a lot of great memories. But back then, I never thought that someday I'd be
singing onstage, let alone touring the world and performing in front of thousands of people. For me, it's truly a magical experience."
Sage understands the importance of memories. Before he was a rock star, he was a tennis star. In his early 20s, Sage was a forerunner on the Pro Tour circuit. He was well above par and headed for certain fame on the courts. All of that came to a sudden end when he was badly injured in a car crash.
"I had a world-ranking in tennis and was on a pro tour when I was involved in a serious accident," Sage said. "I was a passenger in the backseat. The end result was back and neck injuries that ended my tennis career. I was 23, trained my entire life to be a tennis professional and I thought, 'What am I going to do now?' I tried some acting that went okay, but music was always in my heart. So, I decided to put my dedication from tennis into music. I began studying voice, piano and guitar."
At age 24 Sage began a new career as a singer-musician. However, that wasn't a huge stretch considering that he sprung from a musical family.
"Performing came naturally to me," Sage said. "My dad was a well-known opera singer, and my mom was a dancer on Broadway. That's how mom and dad met. So, music was in my blood. I was born in Toronto, Canada, where my dad did a lot of television. In fact, he had his own show. He was pretty popular." 
While doing a commercial, Sage met his soon to be bride. With her support, he studied music awaiting that big break. He got his first gig. While it wasn't "America's Got Talent," it was a big deal to Sage.
"I was asked to play in a little bar for 50 bucks and I said to my wife, 'That was one of the greatest nights in my life,'" Sage said. "Now, we look back and laugh because after that my career kept growing."
And grow it did. Sage got his own shows in Las Vegas at Mandalay Bay and the Venetian. He recorded his first two records, "Ain't No Rock Stars Anymore" and "Redeem My Heart," and he is now working on number three.
"After that I formed my own band: Billy Shelly, drums, Heath Farmer, guitar, on keyboards is Barry Allen, and on bass – Jonathon Harris," Sage said. "And now we travel around the world performing on cruise ships. … We can recreate those amazing recordings from the '70s and '80s live, on stage." 
Symphony in The Park's concerts begin at 6 p.m., ending at 7:30 p.m. The final event of 2022 is the Holiday Concert with Santa & Friends, hosted by Greg Wisniew – scheduled for Dec. 11 in Jerabek Park. 
For additional concert information or to support the program with a donation, visit symphonyinthepark.org.