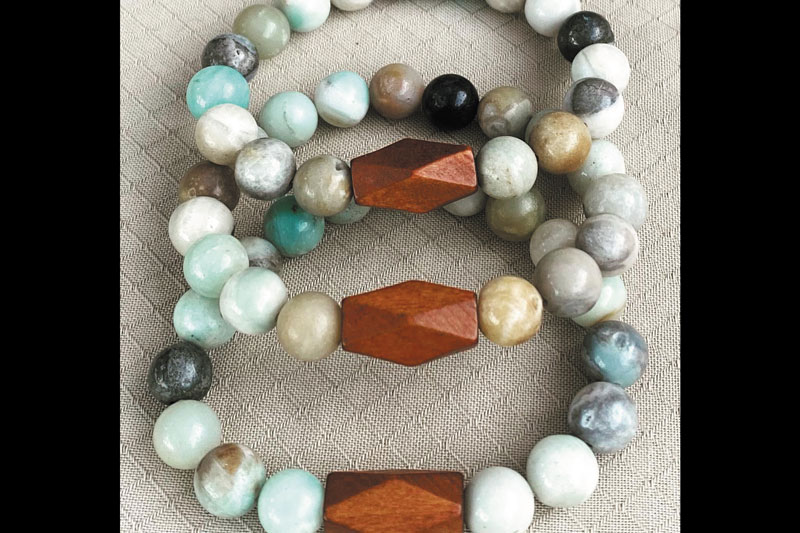 Farmer's Market: custom jewelry for a cause
By Terry L. Wilson
Among the many vendors at the Scripps Ranch Farmers Market is Abby Williams and her Social Change Butterfly booth, offering one-of-a-kind custom made jewelry at discount prices. 
"I am a tinkerer; I like to use a lot of different things. I never waste anything," Williams said. "I have literally used paper clips for wire pieces. I do wall hangings and I like to use a lot of natural items like wood, glass and shells."
Other items include handmade dried sage bundles from Mexico; essential oils; healing gemstones; trendy beaded chokers; and large blue shell earrings; peach coral and freshwater pearls.
"I like to refinish things, and it sort of goes with my Social Change Butterfly concept, because it's all about transformation. You can make anything beautiful if you just put some love into it. I like to see the possibility of beauty in things. I guess I'm a bit of a hippy that way," she said. "I am an artistic person and have always needed an artistic outlet. Making custom jewelry fills that creative need, and at the same time it allows me to make a difference in the world."
With each necklace, each pair of palm leaf earrings, every shell bracelet, and each chunky freshwater pearl pendant sold, a percentage of the profit goes directly into Williams' pet project in Mexico.
"My company, Social Change Butterfly, came about because I wanted to see social change happen, and at the same time make really cool jewelry to help finance those changes," Williams said. "Fifty percent of those profits are donated to Lantern Hill in Mexico, a non-profit founded by my husband and me," Williams said.
"In 2007, my husband and I moved to Ensenada, Mexico, where we founded Lantern Hill, a feeding and education program for the children that were living in poverty there," she explained.
The project focuses on an agricultural area where people have children that lack an education, and end up working the fields in order to feed their families.
"Our goal was to offer an opportunity for kids to stay in school, which included feeding them, too. You can't educate anyone on an empty stomach," she said. "We picked Mexico because I was a Spanish major in college and always wanted to do something in Latin America. My husband and I had worked with several volunteer groups in Ensenada, and that's why we established our non-profit there. Our goal was to raise enough money to keep children in school, and hopefully they will go on to high school and college."
As we approach Christmas, the Social Change Butterfly booth offers shoppers an opportunity to spread some good tidings toward the Lantern Hill project by taking advantage of William's discounted prices and handcrafted jewelry.
"Honestly, I have items for as little as $10 up to $75, and my special is if you buy two pairs of earrings you get a third pair for free. That's three pairs for $20," Williams said. "I have two $20 gemstone bracelets and lots of other bargains including holiday ornaments. I also do a lot of special orders. So, stop by my booth."
For more information about Abby's Social Change Butterfly, visit the  Facebook page facebook.com/socialchangebutterfly or email socialchangebutterfly@gmail.com.
Social Change Butterfly can be found at the Scripps Ranch Farmer's Market, held from 3 to 7 p.m. each Thursday at 10045 Carroll Canyon Road (next to Newtopia Cyder). There is plenty of parking across the street at the National University parking lot.