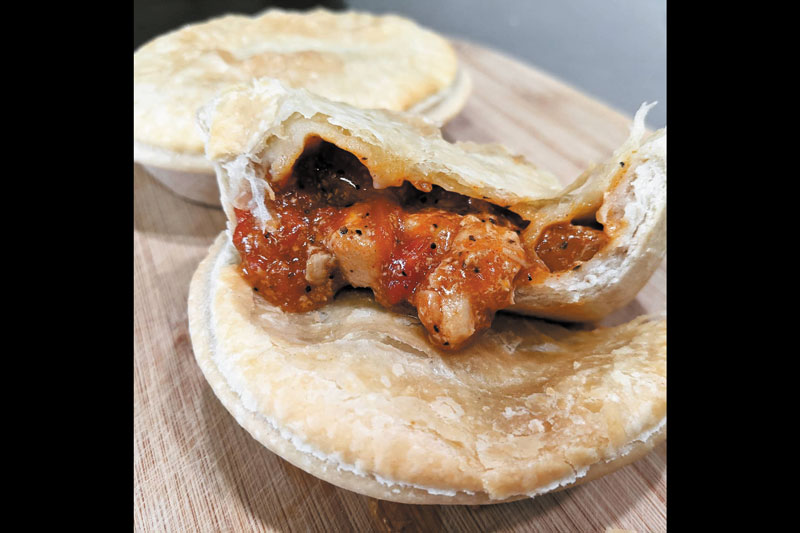 Farmer's Market: Enjoy a hearty favorite
By Terry L. Wilson
Meat pie has been called an Australian version of the American burger, but this tasty meat-filled pastry can be traced back to the Neolithic Period, around 9500 BC. 
There was a time when this carnivorous nosh involved hunting, gathering and rubbing sticks together to spark a cooking fire. Today, satisfying that craving is as simple as a trip to the Scripps Ranch Farmer's Market for a visit to the Aunty Devi's Meat Pies booth.
"Aunty Devi's Meat Pies is a savory meal in a pastry shell," said marketing director Cheyne Mahelona. "My mom grew up eating and making meat pies when she lived in New Zealand. Her vision was always to find a way to make a living selling the pies using her own recipes."
Devi's dream to make pies for a living got its start after she moved to Hawaii and she began making homemade meat pies for friends and members of her son's rugby team.
Devi and family relocated from Hawaii to San Diego where she began a career in the hospitality industry, but never gave up her dream of running a meat-pie empire.
"In order to follow her dream, my mom gave up a 30-year position as executive manager in the hotel industry and the San Diego Convention Center," Mahelona said. "The family got behind her, and all of us began making meat pies from her small home kitchen.
"Back in 2005, we had a tray that fit 12 pies, and while that was cooking down we had to do that same process to get the next 12-pan ready. It took us more than 10 hours to make six-dozen pies, but it took less than an hour to sell out."
Devi focused on selling her pies at major rugby tournaments, and they quickly became a fan favorite. She hit the big time while working The Rugby World Cup Sevens, considered the premier competition outside of the Olympics.
"In 2008, the business really took off," Mahelona said. "The International Rugby Sevens tournament was held in San Diego. That's where mom got her foot in the door. Word of mouth about our pies spread and things got really busy. Once people started trying our product they would specifically buy tickets to the rugby tournament so they could come and get our pies."
Aunty Devi's menu offers a variety of 17 meat-pies including mince, steak, jalapeno and cheese, lamb and rosemary, and spicy chicken curry pie, in addition to vegetarian options.
Mahelona said customers can taste the difference because their pies are made from scratch.
"The quality of our pies is built in. We start with only the best meats, vegetables and spices; much of which we get locally," Mahelona said. "We believe in supporting small local businesses as the community supports ours as well."
Find Aunty Devi's Meat Pies at the Scripps Ranch Farmer's Market from 3 to 7 p.m. each Thursday at 10045 Carroll Canyon Road (next to Newtopia Cyder). There is plenty of parking across the street at the National University parking lot.