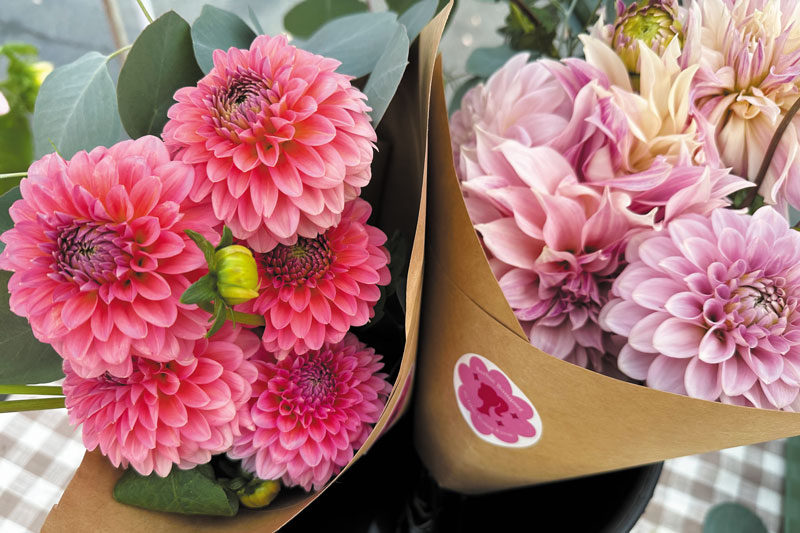 Farmer's Market: Fresh-cut flowers for all
By Jill Alexander
In between being a stay-at-home mom to three kids, all under the age of five, and a wife, Nikki Roach – along with  husband Alec – runs their flower business Lilac Valley Farm. They offer locally grown, fresh-cut flowers from their farm to your home using sustainable practices to provide high-quality, seasonal flowers.  
"That's why we grow flowers in between taking care of the kids and everything else," Nikki said. "It offers peace and some Zen. It takes lots of energy, but we love it."
You can find flowers and more at their booth at the Scripps Ranch Farmer's Market on Thursdays.
"We sell floral bouquets wholesale to florists and produce markets, and we sell retail at the Scripps Ranch Farmer's Market, and directly to our customers via social media," she said.
They started the business in 2021 and are the only employees of Lilac Valley Farm along with the "occasional help of our children."
While they don't have a storefront, they are in the process of opening a "you-pick" farm in Ramona and currently grow their flowers in Escondido, Valley Center and in Ramona.
They became interested in flowers a while ago and haven't stopped smelling the roses, so to speak.
"My husband and I have been gardening for the past 10 years. One of my husband's first jobs was working for a soil company where he learned how to make compost, and has applied that knowledge to our gardening," Nikki said.
When Nikki's father was diagnosed with cancer and was going through chemotherapy, he asked her and her husband to build a garden at his house. 
"We built a greenhouse and about 10 garden beds with different flowers and vegetables, and this is when he urged us to turn our passion for growing food and flowers into a business. We opened our business shortly after he passed away from cancer," she said.
It helped with the grieving process by offering clarity as well as "being cathartic, having our hands in the dirt and a place to throw our energy — into starting a business," Nikki said.
They've been at the Scripps Ranch Farmer's Market for a few months and love it.
"A friend introduced us to the Scripps Ranch Farmer's Market, which is right down the street from my previous marketing job of 10 years, so we are familiar with the area and loved it," Nikki said. "We also love the organizer, Bev, and feel the community she has created is like a second family."
In between working the flower farms, Alec works full-time for Precision Garage Doors, while Nikki runs the house, the social media sites and marketing for Lilac Valley Farm.
Right now, they are simply "selling what we're growing and having fun doing it."
Visit the Lilac Valley Farm booth at the Scripps Ranch Farmer's Market, held from 3:30 to 7:30 p.m. each Thursday at 10045 Carroll Canyon Road.