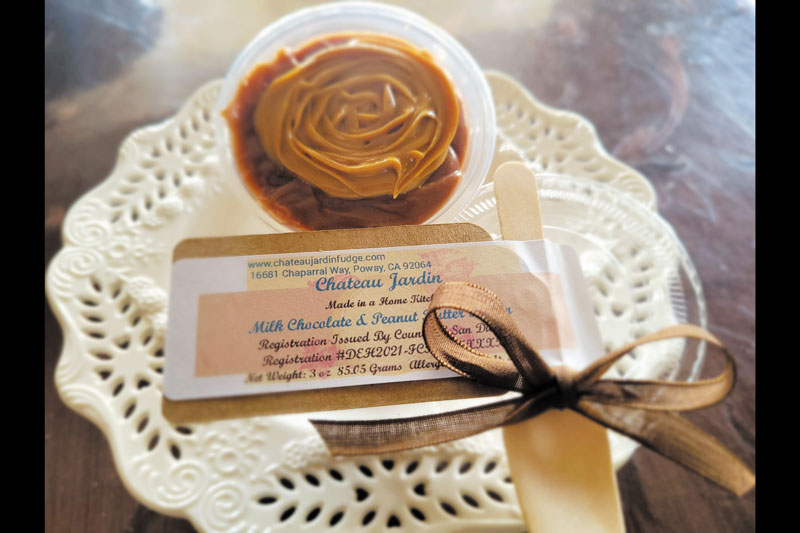 Farmer's Market: Fudge from the garden
By Terry L. Wilson 
Debbie Halverson has a very sweet pseudonym: "The Fudge Lady." As her nickname indicates, Halverson's booth at the Scripps Ranch Farmer's Market offers an age-old favorite with a new twist. 
"My company and my home in Poway are both named Chateau Jardin, which means 'Garden Castle' in French," Halverson said. "And that's how I feel about my land. I feel as if I'm living in a castle. I have eight acres, and everything I create must be grown from this land. I have a very creative background, and I bring that mindset to my fudge and my booth. I've designed a little bakery motif at the market by using makeup and jewelry boxes to display my fudge."
Halverson's creative nature flows into her one-of-a-kind fudge recipes. She has a flair for mixing and matching ingredients, creating a fusion of flavors, taking the art of fudge making to a whole new level.
"I have an entire line of fudge called 'Fruit Fusion,'" Halverson said. "I take the fruit from my land, turn it
into a preserve, layer it into the fudge, then I add dark chocolate on top; that is just one of many fudge fusion recipes I've created. I've invented new flavors with peaches, apples, figs and apricots. The list goes on and on."
Part of Halverson's success can be credited to her unyielding efforts to find, grow and then harvest fruits and vegetables from a bevy of rare and exotic trees and plants. 
"I have more than 40 avocado trees," Halverson said. "I am able to grow a unique variety of food. I have two trees from the Dominican Republic and one from Columbia that produces an avocado the size of a very large three-pound russet potato. We research and create. That is what Chateau Jardin is all about. I call it my confectionary garden." 
A stickler on quality control, the Fudge Lady's products must be as fresh when sold as the fruit was when it came off the vine.
"My fudge must be fresh," Halverson said. "One thing I don't like about fudge is you never know how long it's been sitting there. With my fudge, you can taste the freshness. I also have a brand new line of curds. They include lemon, tangerine, ruby red grapefruit curd and a Cara Cara, which is a pink orange. I put all of those into curds and our preserves, and all of that relates to the land."
Before Halverson could even pluck the fruit from her trees for her curds and fudge, she had to wade through a tsunami of red tape to obtain a Certified Fruit Producer certificate. She said it was a lot of work, but the end game has allowed her to create world-class fudge by embracing her Chateau Jardin mantra.
"I will not buy something from the grocery store," Halverson said. "Everything comes from my own property, and that is what a farmer's market is supposed to be. If you don't grow it or make it yourself, then what has happened to the farmer's element of calling it a farmer's market?  Well, it's missing, and I want to put that back, and that's my little contribution."
Visit the Chateau Jardin booth at the Scripps Ranch Farmer's Market, held from 4 to 8 p.m. each Thursday at 10045 Carroll Canyon Road.