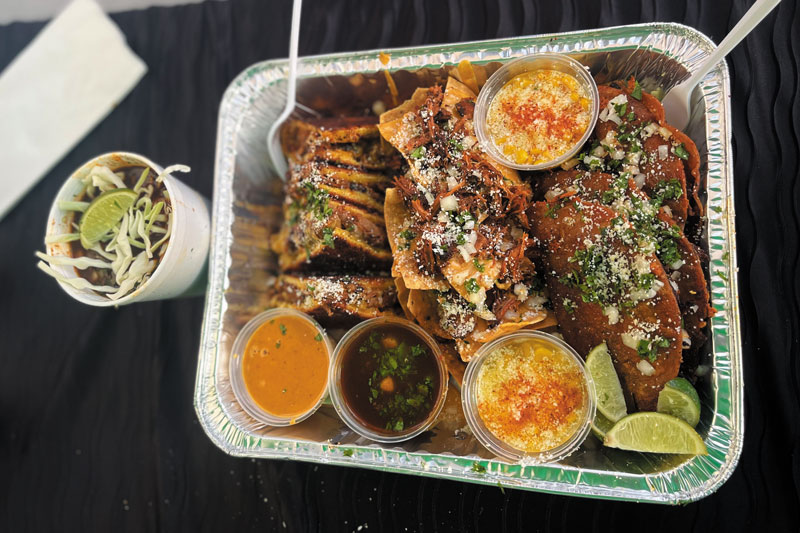 Farmer's Market: Sapos Tacos – braised beef treat
By Terry L. Wilson
Saul Lopez, chef of Sapos Tacos, has won culinary competitions across the country with his unique blend of traditional Mexican birria and Southern Californian cuisine.
"I was working as a chef at a large resort when the COVID lockdown forced a shutdown, so I began a solo career making tacos in my backyard," Lopez said. "My specialty is birria, which is a Mexican dish from the state of Jalisco. Traditionally, birria is made from goat meat, but most of my clients prefer beef that is slow-stewed in a pot."
What started as a backyard business supported by family and friends quickly expanded thanks to Lopez's wife, Lucia, who worked her magic on social media and began building a customer base. The word about his birrias began to spread and within a few weeks, Sapos Tacos was so busy it had to create a pick-up and delivery service from its home.
"And that's how it all started," Lopez said. "Sapos Tacos is a family affair. My wife is my right hand. She does all the marketing and social media. She also has several businesses of her own that have a fixed following, and she got them to follow me, and I have my cousin Yissel, (who) helps at the events we do."
The keys to success for Lopez are the spices and chiles that he mixes into the braised beef.
"I dip my tortillas into a broth that I braise the beef with, then make a Quesadilla out of that on a flat-top grill and I add a little bit of broth on the side for dipping," Lopez said. "Think of it as a Mexican French-Dip but in a Taco version. Birrias have been around for a very long time, but I've given it a Southern Californian infusion with a traditional Mexican style meal."
The Sapos Tacos menu offers birria goat-cheese, birria ramen made with Japanese egg noodles, grilled cheese on Texas toast with a cheese dipping sauce, birria nachos, and birria fried rice.
"I try to take staples from around the world and incorporate them into birria," Lopez said. "I also offer tacos, and a chicken and vegetarian option – which is a potato taco. I love to cook and what gives me pleasure is when somebody tries my food and I see the excitement they get from the love I have put into the dish. That is why I love to cook."
Lopez likes to say that he makes all of his dishes with love. To that end he will only use the freshest ingredients, including fresh spices. He also emphasizes that it is the technique in the way these elements are mixed together that makes all the difference to the palate.
"Quality and fresh spices along with the technique involved in mixing them all together is a skill set all of its own," Lopez said. "The techniques I use are things I've learned throughout my culinary career. Little things make a big difference, from the way you cook the garlic and the onions, even the way you chop the onions can change the taste of something. The way you sear the meat and clean the chiles, if done correctly you are cooking with love and customers can taste the love I put into my cooking."
The Scripps Ranch Farmers Market is held from 4 to 8 p.m. each Thursday at 10045 Carroll Canyon Road (next to Newtopia Cyder). There is plenty of parking across the street in the National University parking lot.