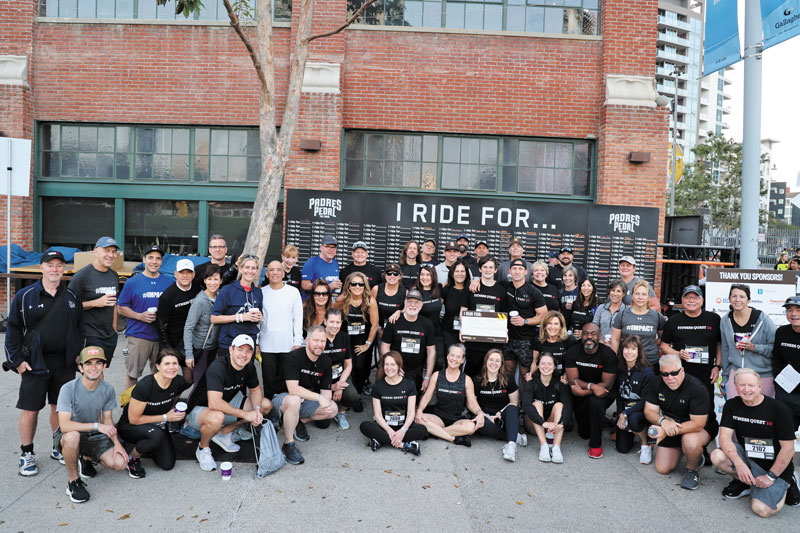 Fitness Quest 10 team raises impressive amount 
By Hector Trujillo
Gym members and staff of Fitness Quest 10 in Scripps Ranch took part in the most recent Padres Pedal the Cause fundraiser held at Petco Park on April 9, raising $32,213 for the annual event that promotes collaborative cancer research.
The gym sponsored 50 of its clients to take part by paying their registration fees to participate in the 5K run alongside 15 staff members, all representing Fitness Quest 10.
"Every family has been impacted by cancer in one way or another, whether it be a friend, family, co-worker or even themselves,"  said Fitness Quest 10 general manager Jeff Bristol. "We put it out and started advertising in here internally through e-mail and social media that said there are different ways you can participate. I was confident that we would hit our goal of $12,500, but we way exceeded that goal."
Bristol was made aware of the opportunity to take part in the fundraiser from longtime gym member Susan Couch, who has been involved with the event for several years.
Each person who participated had a fundraising minimum of $250, which was exceeded by everyone in rapid fashion.
Besides the 5K run in downtown, there were also bicycle rides that ranged in distances from 25 to 100 miles.
"We had such an awesome outpouring from our clients and their friends and families," Bristol said. "We've been here in Scripps Ranch for 23 years, and we just have an amazing community and client base – many of them who are local Scripps Ranch residents themselves."
The participants from Fitness Quest 10 out-raised teams representing much larger companies based in San Diego such as Qualcomm and Sempra Energy.
"We're already talking about next year and how we're going to be involved, and hopefully we can come back and make an even bigger impact," Bristol said.
Curebound, the nonprofit organization that runs the event, donates 100 percent of the funds raised to cancer research for institutions such as the Salk Institute and UCSD, with a total of $3,061,015 being raised and 2,184 participants involved this year.
Padres Pedal the Cause is Curebound's signature event, bringing together thousands of participants each year to raise money for collaborative cancer research. Padres Pedal the Cause is one of San Diego's most impactful fundraising experiences, with more than $15 million raised to date, funding 78 innovative research grants in all types of cancer.
Visit curebound.org.