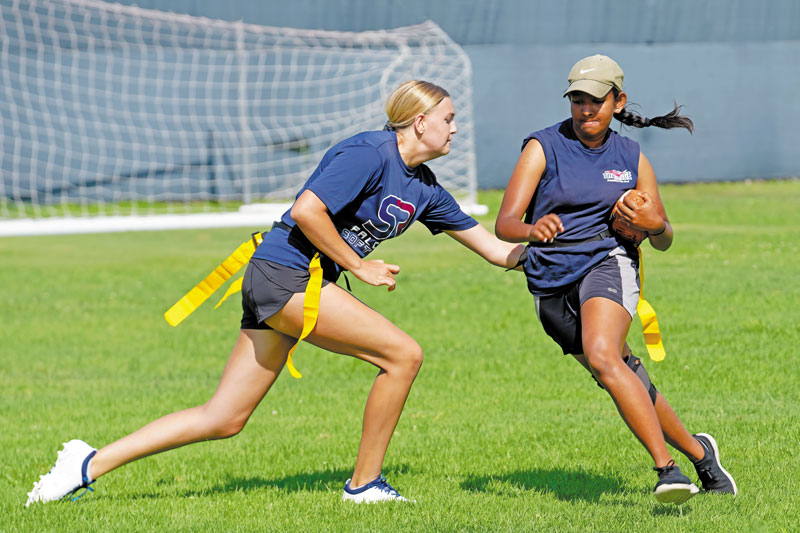 Flag football begins first season
By Hector Trujillo
The Scripps Ranch High School (SRHS) flag football team will play its first ever game on Aug. 29 at home versus San Diego High School after having finished its tryouts which began on Aug. 9.
Scripps Ranch will be part of a nine-team City Conference League alongside the likes of female teams from Mira Mesa, Cathedral Catholic and Patrick Henry High School.
"It's fun and a lot of the girls enjoy it," said SRHS flag football coach Charlie Tang. "It's also non-contact, so it emphasizes speed and athleticism. The issue with the fall season is that there are a lot of other sports going on, so there are issues with regards to field usage."
The team will play one game a week on Tuesdays versus each of the teams in the league. CIF picked up the sport earlier this year after it had been played at the middle school level starting in the spring of 2022.
"I've always liked football but I've never actually played, just been a fan and a coach," Tang said. "It's definitely growing, it's just going to take a couple of years to get really big."
Tang was the junior varsity and assistant varsity coach at Clark High School in Las Vegas, Nevada, from 2016 to 2022 before becoming the coach at Marshall Middle School earlier this year. During his tenure in Nevada, he coached former scholarship athletes Ylla Aparece, who went on to play at Ottawa University in Kansas; and Yoselyn Ay-Varguez, who went on to play at Kansas Wesleyan University.
"It's funny because they're actually a soccer player and a basketball player," Tang said. "I have coached teams that have been quite successful and teams that have struggled a little bit. But no matter what, it's always been about having fun, building the fundamentals and being good teammates."
Flag football is currently a high school varsity only sport, but it has already become very popular in the southern part of the United States with the hope being that the NCAA will one day pick it up.
"It's kind something I fell in love with because it's a fun sport," Tang said. "The goal is to have fun and enjoy the sport by being part of something special."
The full list of conference opponents for the 2023 Scripps Ranch High School season includes San Diego, Hoover, Point Loma, University City, Morse, Patrick Henry, Cathedral Catholic and Mira Mesa.