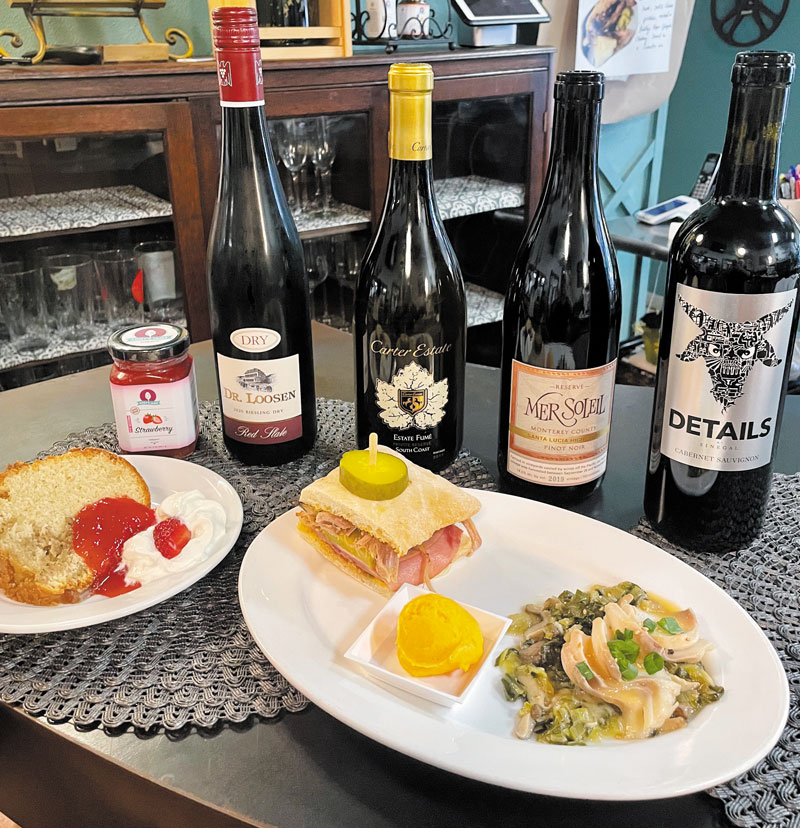 ADVERTORIAL
For any occasion, Addy's Bistro can serve it up
An ideal and conveniently located eatery, Addy's Bistro is located in south Poway at 13771 Danielson St. Tucked away and flanked by office buildings and production facilities, the charming Bistro is unexpected and welcoming, serving upscale breakfast and lunch dishes seven days a week.
The in-house soups and delectable pastries from the fresh-bake case complement the meals and specials. The signature Turkey Apple Brie is a crunchy, gooey delight that is both nutritious and delicious.
Order envy does not exist here due to the extensive menu offerings that cater to all tastes. If you've been here before, you should return soon to try the new menu. Two of the new dishes are the Grilled Salmon Salad and the Thai Noodle Salad with Shrimp. For breakfast, you must try the Crepes, sweet or savory style, or the Steak Burrito.
Ask your server about the wine and beer menu, too. Addy's boasts a diverse retail wine selection that is also easy on the wallet.
Take the time to look through the jams, jellies and caramels that started it all for the owner, Denise M.C. Stein. The Bistro's origin story is inspiring, as she began her business with jams and jellies.
Several menu items include jams, chutneys and seasonings for you to try before you buy. The Monte Cristo Sandwich and the Teriyaki Bowl are both excellent choices. Regardless, the jam and caramel business evolved into the Bistro that it is today, with the emphasis on sharing food inspired by family traditions and creating new ones.
Addy's can handle the headache of catering your event
Do you have any upcoming events that require catering? Denise enjoys collaborating with customers to provide guests at your next event with an unforgettable experience. She takes a consultative approach to creating menus that are focused on dietary needs, seasonal fruits and vegetables, and other factors. Whether you're catering a seven course extravaganza or a custom quality birthday cake, Denise and the talented team at Addy's can provide anything.
Addy's Bistro is also a trusted venue for hosting events! It is available after regular business hours, and even more convenient with the catering service.
Call right away to find out how they can relieve the burden of menu planning and venue selection, to turn your vision into a reality.
Cooking Class is informative and fun!
Another initiative run from the Bistro is Denise's intimate cooking classes. Spend an evening learning to cook something new in a professional kitchen on the first Monday of each month. Past participants have raved about the class, especially because after the lesson, they can sit down to eat the meal they prepared together. To round out the dining experience, a carefully curated wine list is available to enjoy and purchase for your next dinner party. Because space is limited, we advise you to reserve your spot as soon as possible. Subscribe to their weekly newsletter or visit their Event Calendar on their website – www.addys.com – to stay up to date on announcements.
Wine Down Wednesday is a big hit!
To overcome the midweek slump, look to Addy's Bistro for Wine Down Wednesday. Guests enjoy a set meal of tasty plates and wine samples from 4:30 to 8 p.m. James King, the restaurant's resident wine concierge, works with Denise to curate a featured wine list that has a menu that pairs with every selection. James stays on hand to help patrons navigate this wonderful dining experience. And again, due to limited seating, reservations are advised. Call right away to reserve a table!
Weekend Brunch with Zero Waits
Time for a new Brunch spot? Give Addy's a go for weekend brunch. The Bistro is open from 8 a.m. to 2 p.m. on the weekend, and breakfast items are available all day. The fantastic and reasonably priced Mimosa Flight and the weekend special, Eggs Benedict, are both crowd pleasers.
Order Ahead
Order ahead and use the "Order Now" button on the website, www.addys.com. Prepay online, and food will be ready when you arrive. Park in one of the three 5-minute to-go spots, and call (858) 883-4556 for the friendly staff to bring your order to you. Find Addy's on GrubHub or Uber Eats for fast delivery.
Hours
Open Mondays – Fridays, 7 AM – 3 PM; Saturdays – Sundays 8 AM – 2 PM. Wine Down Wednesdays: 4:30 – 8 PM.
Addy's Bistro
Website:
Address:
13771 Danielson St., Suite E
Poway
Email:
Phone:
(858) 883-4556
After Hours:
(858) 252-8183