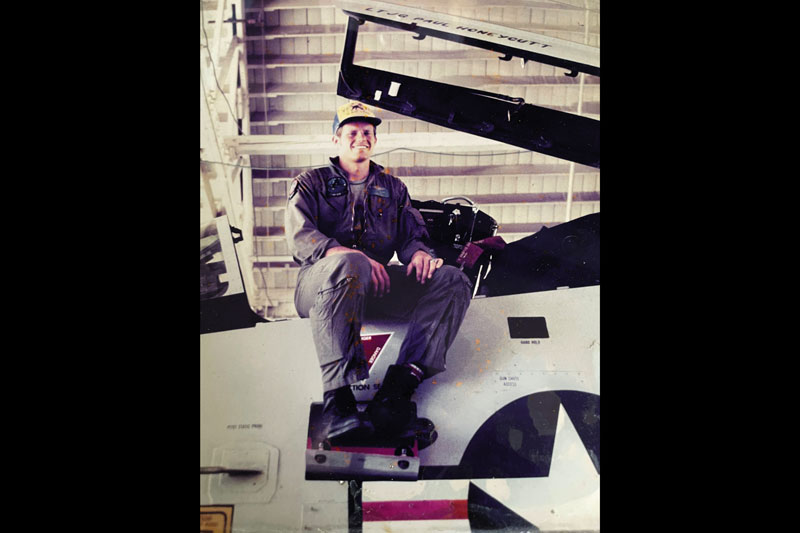 Former Navy pilot shares experiences
By Terry L. Wilson
"I had a need for speed," said retired U.S. naval aviator Commander Paul Honeycutt, borrowing the famous line from the movie "Top Gun," starring Tom Cruise.
The big difference is that Honeycutt was a real life fighter pilot. Here, he describes his days in the cockpit of an F-14 Tomcat on actual missions.
"I was active duty from '77 to '84. Then I did 10 years in the Reserve, retiring in '94," he said.
Following 18 months of jet training in Texas, Honeycutt was dubbed an officer and a gentleman by the United States Congress, given a fresh set of wings for his chest and an officers rank for his shoulder.
"After I got my wings in '79, I was assigned an F-14 and reported for duty in San Diego," Honeycutt said. "I was assigned to my first fleet squadron, VF-213, the Black Lions. While I was there, we won the Gun (fighter) Derby, setting a record for the most hits on a target banner."
In 1981, as tensions between the United States and Iran continued to escalate, Honeycutt was deployed to the Persian Gulf to participate in what would later be called "The First Tanker War" during a time when Iran and Iraq were involved in armed conflict.
Next, Honeycutt was ordered back to San Diego at the famed Miramar Naval Air Station to train new Top Gun pilots on advanced aerial combat tactics.
"I was assigned to VF-126, Bandits," Honeycutt said. "We were the Aggressor Squad. We flew A4s, sort of like a Russian MiG, and we would teach the F-14 pilots how to dogfight. My job was to hone their air combat skills before they went on deployment, and that was a lot of fun."
Although Honeycutt served in some very hot combat zones, he never had to test his dogfighting skills. But there was one time that had a very high pucker-factor.
"I was on the USS America in the Mediterranean doing exercises with the Nimitz. We did something called 'Poke your fingers in Gaddafi's eyes,' which was a line in the sand Gaddafi called 'The Line Of Death.'" Honeycutt said, referring to Muammar Gaddafi, the longtime dictator of Libya at that time. "He said, 'You cross that line and we will kill you.' So, every day our F-14s crossed the Line Of Death and Gaddafi would send out his MiGs, and as soon as we'd start to chase them, they would run away. We played that game of cat and mouse for a couple of weeks. Then I was redeployed back to San Diego."
Honeycutt was again selected for the Top Gun School. After receiving additional combat training, he returned to the Persian Gulf on the USS Enterprise.
He served a long and eventful career in the Navy, and he still considers landing a jet fighter on the deck of an aircraft carrier in the middle of an ocean during nighttime as the most tense, difficult and terrifying aspects of this time in the Navy.
"I flew nearly nine years, logging more than 1,800 flight hours and 200 carrier landings," Honeycutt said. "One of our favorite sayings was, 'We'll fly for free during the daytime, but they don't pay us near enough to land on a carrier at night.'"
A jet plane landing on a carrier moves from 150 mph to zero in the blink of an eye, making it one of the most dangerous maneuvers a pilot will ever face.
"Even if you go out one night and have a perfect landing, the next night is like you've never done it before," Honeycutt explained. "Every night you've got sweaty palms and white knuckles. It's really scary."
The need for speed runs in the family. For seven years, Honeycutt's son, Christopher, has been following in his father's jetstream, flying F-18 Super Hornets for the Navy.
Paul's daughter Lauren was a Navy nurse serving in Washington's "Wounded Warriors Ward" where she met her husband who lost his legs in Afghanistan in 2011.
The Honeycutt military legacy goes back at least to WWII, when Paul's father, a U.S. Marine, fought on Iwo Jima.
In civilian life, Honeycutt is a financial advisor, and has received numerous high honors for his dedicated service as a community volunteer in Scripps Ranch and as a longtime, accomplished Scoutmaster.