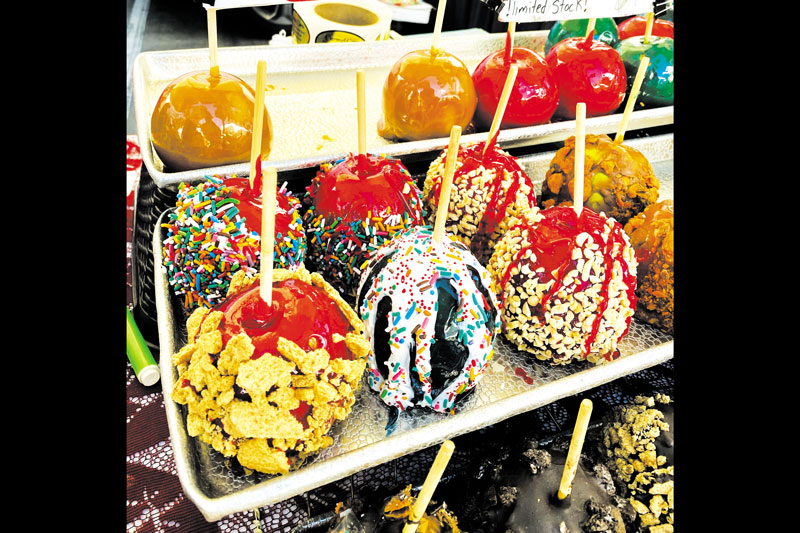 Giant caramel apples are a big hit!
By Terry L. Wilson
Willy Wonka has nothing on Raul Concha. Chocolate and confectionery are part of his DNA. He has a tasty treat for every sweet tooth at his Carmel Corn booth at the Scripps Ranch Farmer's Market. 
"In 1962, our store opened in College Grove Mall. My family purchased it in 1982," Concha said. "After that mall went belly-up we re-opened at Parkway Plaza in 1992, and that's where we are now. So, I pretty much grew-up in the business." 
Over the years Concha's Carmel Corn empire has served generations of repeat customers, making them akin to being a surrogate family, bonded together by their love of caramel corn and candy apples.
"If you come by our store on Saturday's you'll see three generations of family members in our shop," Concha said. "It's kind of cool. We've been around long enough that we have customers that came here when they were kids that are now bringing in their kids."
Concha's mother runs the store while Raul does all of the hands-on work with the apples and the corn. What he does with an apple would impress even Johnny Appleseed. His creations are so much more than sticking an apple on a stick and covering it with a topping. Raul is an expert in pomology – the science of growing and preparing fruit.
"To begin with, the apples must be fresh and crisp. Everything I make is handmade from scratch," Concha said. "I use all kinds of different apples. I use as many natural products as possible. I use Granny Smith apples that I hand-select from several different farms." 
The science behind making the perfect caramel apple includes knowing how different degrees of heat will affect the caramel and chocolate making process. To create a picture-perfect candy, caramel and chocolate infused apple, Concha has created his own special recipe.
"The recipe that I use for my caramel takes about three to six-hours to make seven pounds of caramel," Concha said. "And that is for about 50 apples. Anything covered with chocolate also has a caramel base."
Concha's flavored popcorn is even more complex to create. First he must select the perfect type of popcorn. Then he turns into a mad scientist, sprinkling every color and flavor under the rainbow, creating a one-of-a-kind taste treat.
"We use two different types of kernels. There is a butterfly kernel for cheese popcorn and butter popcorn. There's a mushroom kernel that is for caramel, kettle and candy coated popcorn," Concha said.
"I do a lot of special orders for weddings, birthdays, gender reveal parties – any special event. You can ask for any color or any combinations of colors, and pretty much any flavor," he said. "The only one I cannot color is caramel corn. That is going to be brown no matter what."
Concha's creations include Butter Finger, Rocky Road, vegan, gluten free, and candy apples, to name a few. His popcorn offers an artist's pallet of colors, each with it's own individual tastes and personality from root beer to a spicy jalapeño cheddar.
"Our most popular apple is the apple pie apple," Concha said. "It's a Granny Smith apple with divinity white chocolate, ground cinnamon, sugar and graham cracker. I also do that in dark chocolate. Our two-pound Rocky Road Monster Apple is also popular."
Find Concha's Carmel Corn booth at the Scripps Ranch Farmer's Market, open each Thursday from 4 to 8 p.m. at 10045 Carroll Canyon Road, next to Newtopia Cyder.