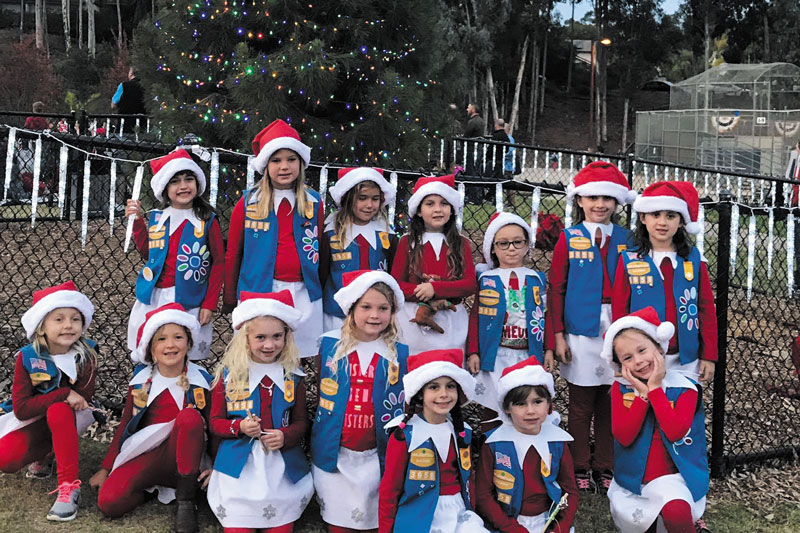 Girl Scouts bring back the annual holiday event for Scripps Ranch
By Kaila Mellos
The 39th annual Scripps Ranch Girl Scouts tree lighting event is back for in-person events and a toy drive benefiting Toys for Tots at Jerabek Park on Sunday, Dec. 5 from 3 to 5 p.m.
A different Girl Scout troop from Scripps Ranch hosts the event each year. Fifth grade Troop 3958 – with troop leader Marisa Fleizach – will be initiating the festivities this holiday season.
Santa will be there, and holiday inclusive songs will be sung.
These Scouts will also be completing their Girl Scouts Bronze Award by hosting the event.
"[The Bronze Award] takes 20 hours to earn," Fleizach said. "That started with choosing what we were going to do for our Bronze Award and all the pre-planning so far for this event. It also counts the day of the event with hosting it. It is also tradition to tell the next troop who hosts it what goes into it and tips. We have a whole binder that we update on what we did, the budgeting and stuff like that. So, they have a hand in the whole process of the planning and executing this."
This year, Troop 3958 has planned the toy drive, a bake sale, an appearance by Santa, arts and crafts, and singing around the tree by individual troops. The bake sale will benefit the S.H.A.R.E program, which helps girls who want to become Girl Scouts with the financial aspects of joining.
"It's just really fun and it's a free event for Scouts to get together, hang out and spread some holiday cheer," Fleizach said. "Since last year we weren't able to have the event in-person, everyone's very excited to have it this year."
The goal for the toy drive is to bring in 100 new and unwrapped toys that will be donated to Toys for Tots. Anyone can donate these gifts. Girl Scouts or Boy Scouts who donate can receive a special personalized tree lighting patch.
Since COVID precautions are still in place, those attending the event will be required to wear masks if they are within six feet of others.
This event is also dedicated to the late Bob and Gaye Dingeman. Bob was known as "Mr. Scripps Ranch" for his dedicated work as a volunteer and leader for this community. Gaye was always supportive, helpful and encouraging to many in Scripps Ranch.
"They were always a big part of the event and obviously can't be here this year, but they always loved to be a part of it," Fleizach said.