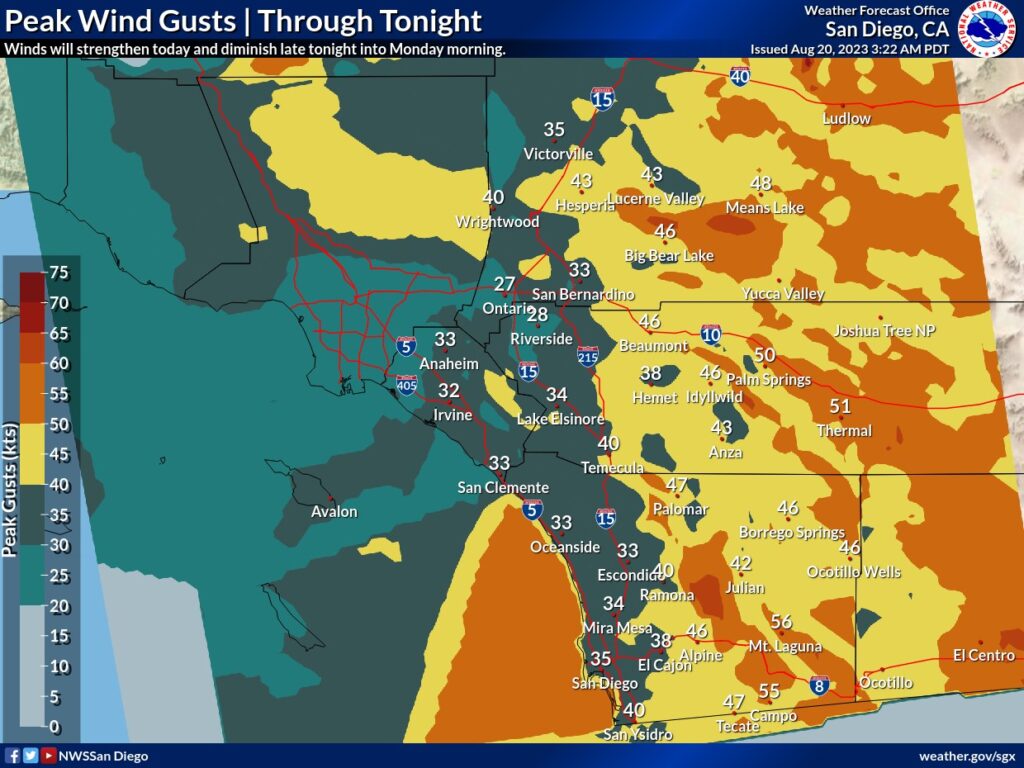 Hilary downgraded, but hitting San Diego
Mild winds and moderate rain are greeting Scripps Ranch residents this morning, but the major impact from Hilary, now a tropical storm, are forecast to hit San Diego between now and 6 p.m. today, Aug. 20. Please send photos or reports of damage to info@scrippsranchnews.com so that we can update the community. Here are this morning's storm updates:
Hilary has weakened to a Tropical Storm and is expected to make it into SoCal anytime. Expect periods of heavy rain; areas of flooding especially in the mountains and deserts; and strong winds in San Diego County, according to the National Weather Service.
Widespread rain continues to stream northward this morning. Rain intensity will increase, likely peaking this afternoon and evening, when torrential rainfall will be possible. Make sure you have Wireless Emergency Alerts (WEA) enabled for when warnings are issued for your area.
Regardless of its eventual status as a hurricane or tropical storm, the forecasts for heavy rain and catastrophic flooding remain unchanged.
Is it confusing/tricky to associate a "weakening storm" with a consistent catastrophic flooding threat? Absolutely! But these categories are based on wind alone, and while there will still be wind impacts, heavy rain and flooding remain by far and away the biggest threat.
There will still be some degree of wind impact, mainly in the mountains, deserts, and coastal foothills. The heavy rain and strong winds will create treacherous travel conditions. Unless it's essential, stay at home today.
A Tropical Storm Warning is in effect for San Diego County valleys. Flash flooding can be expected across the whole region, with rare and dangerous flooding expected across the mountains and deserts. Strong, tropical-storm force winds are expected today. Extreme rainfall flooding may prompt numerous evacuations and rescues. Small streams, creeks, canals, arroyos and ditches may become raging rivers. Flood waters can enter numerous structures within multiple communities, some structures becoming uninhabitable or washed away. Numerous places where flood waters may cover escape routes. Streets and parking lots become rivers of raging water with underpasses submerged. Driving conditions become very dangerous. Numerous road and bridge closures with some weakened or washed out.
Protect against dangerous wind having possible significant impacts
across southern California. Potential impacts in this area include: Some damage to roofing and siding materials, along with damage to porches, awnings, carports, and sheds. A few buildings experiencing window, door, and garage door failures. Unsecured lightweight objects become dangerous projectiles. Large trees snapped or uprooted, but with greater numbers in places where trees are shallow rooted. Fences and roadway signs blown over. Scattered power and communications outages, but more prevalent in areas with above ground lines.
If a Tornado Warning is issued for your area, be ready to shelter quickly, preferably away from windows and in an interior room not prone to flooding. If driving, scan the roadside for quick shelter options. If in a place that is vulnerable to high wind, such as near large
trees, a manufactured home, upper floors of a high-rise building, or on a boat, consider moving to a safer shelter before the onset of strong winds or flooding.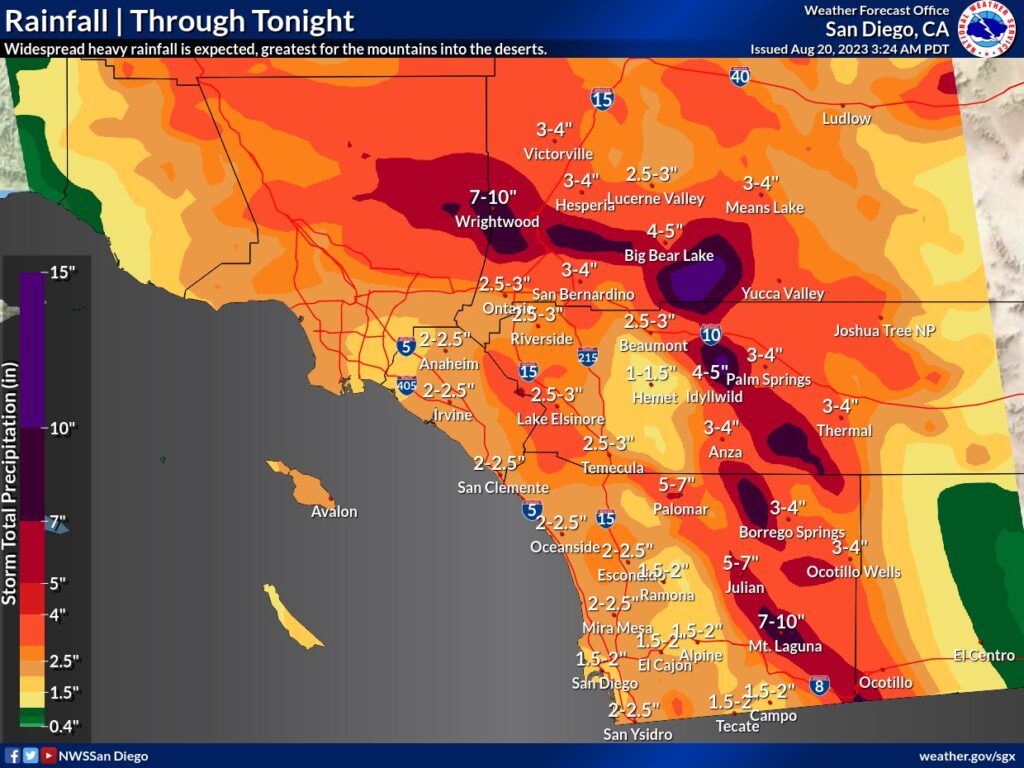 County proclaims emergency
At 9:30 p.m. Saturday, the County of San Diego proclaimed a local emergency in response to Tropical Cyclone Hilary.
This emergency proclamation allows the County to fully deploy all available resources, actions and measures deemed necessary to ensure the safety and welfare of San Diego County residents and property. Assistance from other local agencies in the Southern California area is supplementing local resources. The County follows Governor Newsom declaring a State of Emergency around 6 p.m. Saturday.
To receive emergency notifications, updates and preparedness information for this and all disasters, register for AlertSanDiego.org and download the SD Emergency mobile app.
City storm closures
In response to the Tropical Storm Warning that has been issued by the National Weather Service for the San Diego region, the City of San Diego will be closing all public facilities – including parks and beaches – Sunday, Aug. 20, through Monday, Aug. 21. City facilities may reopen on Tuesday, Aug. 22, depending on the storm conditions. 
Closures include:
City libraries, recreation centers and pools. 
Beaches, regional and community parks, open space parks and reservoir lakes. 
Torrey Pines, Balboa and Mission Bay golf courses. 
City Administration building located at 202 C St. Passport Services will not be available in person on Monday, previously scheduled appointments will be rescheduled. 
All City of San Diego online services will still be available on Monday, including Development Services Department permitting services.
Trash and recycling collection services scheduled for Monday, Aug. 21, may be delayed. Residents are encouraged to secure their bins and not place the bins out for collection until Monday, depending on weather conditions. 
The City's Stormwater Department has temporarily placed "no parking" signs in low-lying or flood-risk areas, especially crossings around the San Diego River. Crews will be tracking the storm and monitoring 15 pump stations and more than 46,000 storm drains citywide for any issues.
During the rains, multiple crews from the City's Storm Patrol will be actively monitoring areas throughout the city and responding to incidents, such as flooding and downed trees or branches.
Residents can report impacts, such as flooding or downed trees, by using the Get It Done application or by calling (619) 527-7500. If it is a life-threatening emergency, residents should call 911.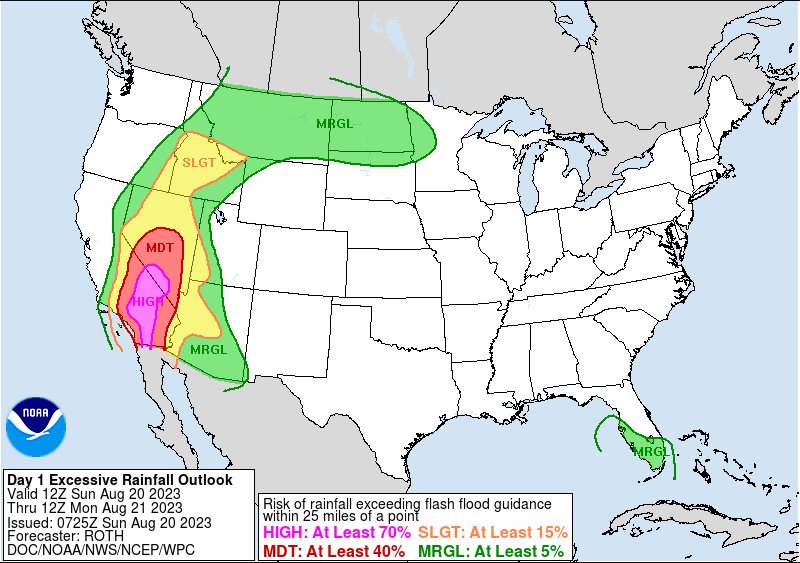 SDG&E prepares
In anticipation of unprecedented severe weather conditions impacting the entire region from the coast to foothills to the deserts, SDG&E is increasing the number of field crews and pre-staging equipment to respond to potential, prolonged outages, so power can be restored as quickly and safely as possible to customers.
The company's meteorology team is continuously monitoring weather conditions to help provide situational awareness to frontline crews working hard to protect and maintain the energy infrastructure that serves local communities. SDG&E's emergency management team has also remained in close communications with local and state agencies, including the County's Emergency Operations Center, to plan and coordinate
The company is sharing the following critical safety tips to help keep everyone safe:
If you see a downed power line or damaged electrical equipment, always assume it is energized, stay away, and call 9-1-1. If a person has come into contact with a power line, do not touch them. Call 9-1-1 and SDG&E at (800) 411-SDGE (7343) to report it.
Secure any loose outdoor items like umbrellas, patio furniture and garbage bins to prevent them from flying away and damaging power lines.
Drive safely on rain-slicked roads, as the number of cars hitting transformers or power poles increases. Be sure to slow down and allow more time for braking.
Have a plan and kit with essential supplies. Keep a battery-operated radio and flashlights handy in case the power goes out. Check the batteries now to make sure the equipment works, and do not rely on candles for lighting during a power outage. Also make sure your cell phones are fully charged.
In the event you do experience a power outage, customers are encouraged to visit sdge.com/outages for status updates and to view SDG&E's outage map.
If you rely on electrically operated medical equipment for your health and safety, make sure you have made backup power arrangements in case of an outage.
If you see SDG&E crews working in the field, please be sure to slow down while driving to give them space to restore power as safely as possible.
If you smell gas or suspect a gas leak, leave your premise. From a safe location, call 911 or call us at 1-800-611-7343.