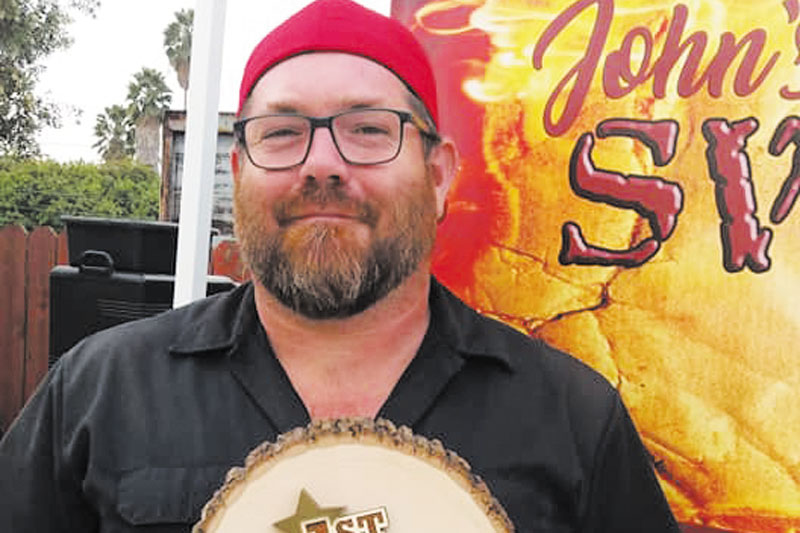 John's Sweetfire BBQ: How sweet it is!
By Terry L. Wilson
There is something new in the air at the Scripps Ranch Farmer's Market. It's the sweet scent of fresh barbecue. Just follow your nose and it will guide you to John's Sweetfire BBQ stand for what the market's manager has dubbed "award winning" ribs.
"Making barbecue started as a hobby," said John Morence of John's Sweetfire BBQ. "I grew up in Los
Angeles. I would go to the local barbecue places, but I was always disappointed, so I decided to try and figure out how to make a great sauce myself."
Morence was a professional tow-truck driver and a part-time experimental sauce entrepreneur, but after a few years he gave up trucking and is now cooking up his own brand of barbecue sauce, and life is finger-lickin' good.
But success didn't come overnight.
"When I started, I had no idea what I was doing," Morence said. "I began experimenting, a little bit of this, some of that, until eventually I developed a recipe that I really liked, and it turned out that a lot of other people like it too. I always had family and friends over when I cooked, so I used them as my guinea pigs."
After family and friends began asking Morence for jars of his new sauce to take home, the fledgling chef knew he had a hit on his hands, so he began dishing out his ribs and sauce at markets and other outdoor venues around the county. From day-one, his BBQ was an instant hit with attendees.
"It started with my sauce," Morence said. "My sauce is a sweet heat, a sweet fire flavor with a kicker at the end, and that's how I got my name, Sweetfire BBQ. it came from the sauce, which has molasses, brown sugar and cayenne pepper for the kick at the end."
Armed with a winning sauce, Morence began working with different meats until he had created the perfect partner for his sweet and hot sauce.
"I have a special way of preparing my ribs," Morence said. "I water down my sauce to make a mop that I put on at the very end of cooking my ribs; so it's very light and I serve it that way and I ask if they want sauce on it or not. It's good the way it is but the sauce always makes it a little better. "
Once again, pork rules when it comes to fine dining barbecue-style, with the cow coming in behind the pig.
"With the ribs I do mainly pork, but on occasion, when I can get them, I'll do the beef," Morence said. "I'm a firm believer in the roots of barbecue, which is to take any piece of meat you can get your hands on to make it delicious. I see guys spending top dollar on some ultra expensive piece of exotic meat. It's a waste of money after you spend 15-hours cooking it down to something that's really good."
Fresh ingredients and special attention to preparation to applying the sauce are a couple of the reasons why his Sweetfire BBQ has been drawing long lines and rave reviews.
For more information, visit johnssweetfirebbq.com.
Better yet, stop by his booth at the Scripps Ranch Farmer's Market and enjoy a rib or two.
The Scripps Ranch Farmer's Market is open from 3 to 7 p.m. each Thursday at 10045 Carroll Canyon
Road (next to Newtopia Cyder). There is plenty of parking across the street at the National University parking lot.