Library plans 30th anniversary events
Scripps Ranch Friends of the Library (SRFOL) organization is hosting two special events this fall to celebrate the Scripps Miramar Ranch Library's 30th anniversary.
The SRFOL wants to thank the Scripps Ranch community and especially the SRFOL members for their unwavering support of the library over the last three-plus decades. From the original storefront library to the ceremonial book brigade to today's multi-functional library, the library has grown over the years. Today, the library offers, with the support of the SRFOL, even more books, community spaces, both indoor and outdoor, programs for children, teens and adults – and now an Idea Lab.
Celebration for all ages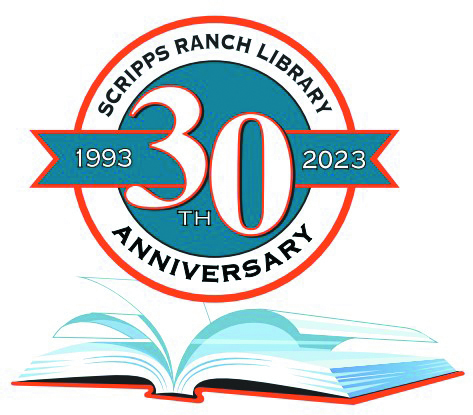 Mark your calendar for Saturday, Sept. 30, when Scripps Ranch Friends of the Library presents a communitywide celebration from 10 a.m. to 2 p.m. Everyone is invited to join the festivities.
There will be fun activities for children, teens and adults including a variety of lawn games (think giant Jenga, ladder golf and a cornhole competition) and refreshments for everyone.
Student winners of the 30th anniversary essay contest will be recognized at 10:30 a.m.
Be among the first to preview the new Idea Lab at the library where you'll be able to explore your creative instincts with such equipment as a 3-D printer, laser cutter, vinyl cutter and multimedia laptop. Plus, the first 30 kids (under age 18) will receive a gift certificate for a free children's or young adult book from Grace's Book Nook. Everyone will have an opportunity to sign the anniversary banner and write a note about a favorite library memory.
Country Living Celebration
The celebration will continue on Saturday, Oct. 7, from 5:30 to 8:30 p.m. with a fun, adult (21+) event with food, drink and a live band. All library-loving adults who'd like to party and celebrate the library are welcome to attend the Country Living Celebration under the Stars event, hosted by Scripps Ranch Friends of the Library. This event will include a barbecue dinner and dessert plus wine, beer and non-alcoholic beverages.
The Those Guys band, led by Scripps Ranch's own Jerry O'Mara, will play in the courtyard for the listening and dancing pleasure of all attendees. Take advantage of the opportunity for a preview tour of the new Idea Lab, stop by the memory table, sign the anniversary banner and participate in the scavenger hunt (prizes will be awarded). Then capture a memory at the photo booth. There is no charge for this event. To register, email president@srfol.org by Wednesday, Oct. 4. Space is limited.