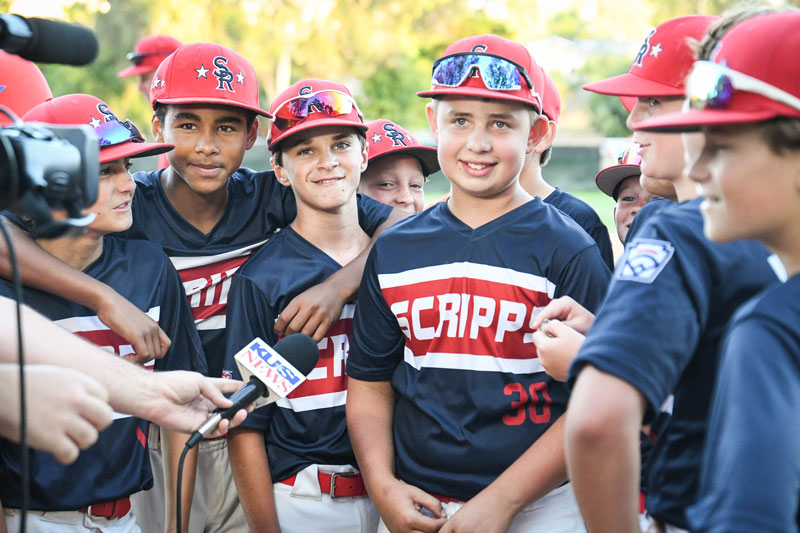 Little League team plays in sectionals
By Hector Trujillo
The Scripps Ranch Little League 12U (SRLL) All Stars defeated the Coronado All Stars in a dominating 11-1 victory at Jerabek Park on July 10 to earn the District 32 Championship and a trip to sectionals. Unfortunately, the talented Scripps Ranch team was eliminated from the sectional tournament after losing 0-3 to Del Mar on July 15 and 1-4 to San Carlos on July 16.
The 12U team went a combined 4-1 in the Little League Division District 32 tournament, beating both Point Loma and Coronado twice while losing once to Coronado 9-2. In the first game of the tournament against Point Loma on June 27, Aaron Tinoco pitched five Innings and JD Engler pitched one inning in a combined 8-0 no-hit victory. The offense for that game was provided by Ethan Neville, Will Slapnicka and Tinoco who all hit home runs. Colin McArthur went 2 for 3 with 4 RBIs vs. Coronado and also hit a HR in the second game versus Point Loma in a 4-0 victory while Engler pitched a combined no hitter after going six and two-thirds innings before giving the mound over to reliever Alex Kolk who got the final out in the championship game.
"This was the same team that was the 11U last year going second at State last year," said league president Avi Barat.
The 12U All Stars started Section 6 tournament play on July 15 against Del Mar Little League in a group that also included San Carlos Little League and Vista American Little League.
"It was a good season and everything went really well, so a successful one," Barat said. "We had a good All-Star season and we had four All-Star teams, with two making their district championships. We had a lot of kids playing a lot of baseball, which is always great to see and a good experience for everyone."
The 2023 postseason saw SRLL select four All-Star teams (13U, 12U, 11U, and 10U), two 9U Future Stars teams, two 8U Little Stars Teams and seven All-Division teams across four of its divisions. As far as the 10U All-Stars, the team got a great performance from Ethan Lum, 2-2 with an RBI double during the 11-4 loss to Coronado in the championship game played at Clairemont Hilltoppers Little League.
Fall Ball: The 2023 Fall Ball registration has opened. Visit scrippsranchll.org for more information and to sign up. The season starts around Labor Day and lasts through the Sunday before Thanksgiving.