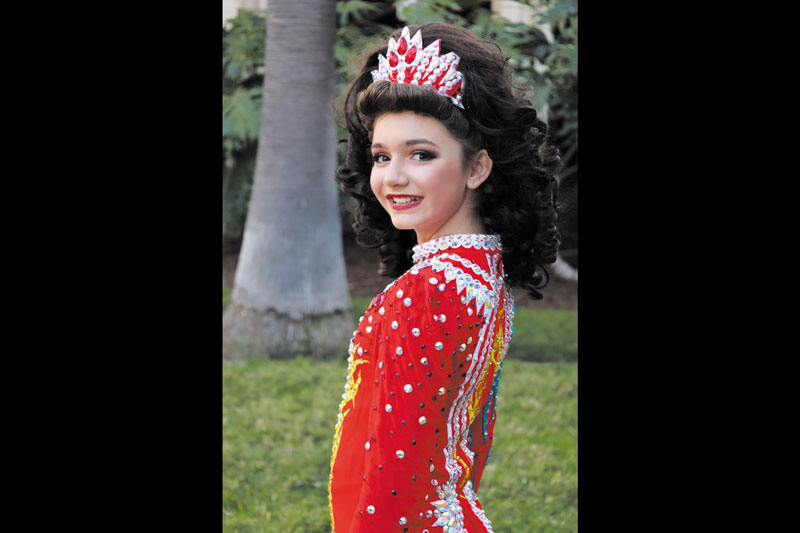 Local Irish dancer will compete in Belfast
By Nick Ng
A Scripps Ranch dancer will be flying to Belfast, Northern Ireland, to compete in the solo competitions in the 2022 World Irish Dance Championships in April.
Maggie Gergurich, 11, who is a sixth grader at Marshall Middle School, has been practicing Irish dancing at Rose Academy School of Irish Dance since she was five years old.
"It's really exciting because I really want to go to the World [Championships]," Maggie said. "It makes me nervous because I'm going to this giant competition with a bunch of people from all around the world, and I get to dance against them and they're all really good dancers who are qualified to go." 
The World Championships is like the "Olympics" of Irish dance, as Rose Academy owner Patricia Rose-Toy described it. About 10 percent of each age group qualify for the Championships each year.
"Many dancers compete their entire dancing career without achieving that world-qualifier status," Rose-Toy said. "Maggie was able to achieve this goal at such a young age [and it] is a credit to her talent as well as her work ethic."
In 2019, Maggie reached the highest level of open championships and placed sixth in the regional championships, which qualified her to compete in the World Championships in Dublin, Ireland, in 2020. However, the event was canceled due to the COVID-19 pandemic. In November 2021, Maggie won third place in her age group, which qualified her for this year's World Championships.
Maggie attends dance classes five to six days a week, and she often practices at home.
"She challenges herself to always improve the hardest 'trick' and is able to add her own style to the dances," Rose-Toy said.
Like most dance competitors, one of the biggest challenges Maggie faces is to correct her dance steps. Sometimes fixing the details can lead to "more fixing."
"When you're drawing a picture, you start out with a sketch and you add all the details," said her mother, Mary Ann, who also teaches at Rose Academy. "Every time Maggie fixes one correction, we always add another bit of correction on top of it."
Mary Ann explained that in the competition, dancers perform two rounds, and about half of the dancers get called to dance in a third round. Maggie's goal is to get to that third recall.
"If she doesn't get it this year, she'll try to do it again in future years," Mary Ann said.
Features of Irish dancing include repetitive quick cross-over steps, taps, heel clicks and low kicks. While most are not sure why Irish dancers keep their upper body rigid and arms to their sides, Rose-Toy said it was a way for the Irish to keep their traditions and culture alive when the British occupied Ireland for centuries.
"Spaces were tight!" she said. "They would still gather for ceilis (parties with dancing and merriment) in their small homes. It was helpful to keep the arms down to save space. If a British soldier were to peek in the windows, they would only see heads moving around inside if the arms were down. The soldiers would have no idea that people were dancing, and feet were flying!"
Maggie's parents, Mary Ann and Matt Gergurich, were also professional Irish dancers who performed on "Lord of the Dance" with Michael Flatley in the late 1990s to the mid-2000s. Mary Ann's mother, Maureen Bakke, was also an Irish dancer who had inspired her to pick up the tradition.
"Maggie has surpassed what I did as a dancer," said Mary Ann, who had achieved fifth place when she was her daughter's age. "It impresses me on how much drive she has."
"I like Irish dancing because it's just fun and I make a bunch of friends at the competitions," Maggie said. "A bunch of people in my family have a dance [background]. I get to see what they did, and now they get to watch me dance now."
The World Championships will run from April 10 to 17. Besides the competition, Maggie and her family would like to visit a few places of interest in Belfast, including the Titanic museum.
"I love dancing at the Rose Academy. Everyone's really nice and they feel like my family," Maggie said. "Ms. Patricia helped me a lot throughout the six years of dancing. … and I can't wait to learn more from her."