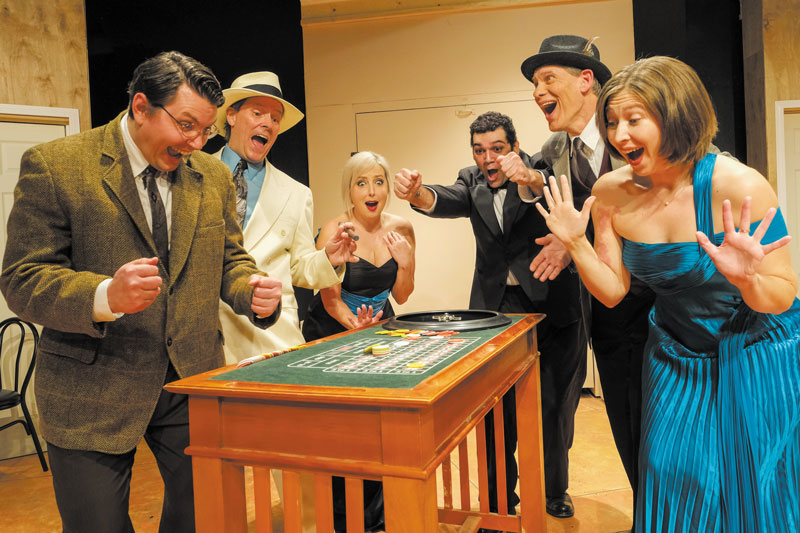 'Lucky Stiff' promises twists and fun!
By Ashley Shah
Four vastly different characters under some peculiar circumstances – in competition for the same thing: $6 million – encapsulates "Lucky Stiff," Scripps Ranch Theatre's first production of the new year.
Directed by Kathy Brombacher, this production is a comedy with musical components.
"'Lucky Stiff' is really a farce. The comedy is exaggerated. Some of the reality is twisted," director Kathy Brombacher said. "The musical theatre in this production is excellent. We worked really hard to find the best actors for the musical portion of this play."
This production is driven by four main characters.
Harry Witherspoon, played by Cody Ingram, is to inherit $6 million from his late uncle, Tony, played by Ralph Johnson, on the condition that he takes his uncle to Monte Carlo.
"Harry is an English shoe salesman, and his life is not interesting. He gets word that he might be able to receive this 6 million from an uncle he didn't even have contact with. He starts his journey to Monte Carlo, and we get to follow this exciting and fast-paced journey," Brombacher said.
In the event that Harry is not able to take his uncle to Monte Carlo, the $6 million goes to the Universal Dog Home of Brooklyn.
Annabel Glick, played by Kelly Du-rouin, is part of the Universal Dog Home of Brooklyn, and is on the hunt for the 6 million.
Alongside Annabel and Harry, Rita La Porta, played by Erica Weisz, Tony's lover, is after the money. La Porta embezzled the 6 million from her husband, and blamed her brother Vinnie, played by Kenny Bordieri, for the missing money, leaving Vinnie hot on the trail for the money as well.
"We get to watch all of these characters on their journey for this money. It is comedic; it is exciting; it is a lot. But, throughout the play, there is also this aspect of a murder-mystery. We don't know who killed the uncle," Brombacher said.
In addition to the different themes in the production, the play is set in the early 1990s, giving it another unique aspect.
"It is nice to have a different time period because it gives the play a little bit of a look. The fashion is different; there are no cell phones; we're in a simpler time," Brombacher said.
This production has been in the works since July of 2022.
"We started putting out notices in July. We did callbacks for months. This is a character-based play, so we needed to make sure that the actors were really great, and that they could sing. I am so happy with the team that we have. It was worth the wait," Brombacher said.
They began rehearsals in November of 2022.
"We took a little break for the holidays, but we've been back since early January," Brombacher said.
Opening night of this production is on Jan. 28. The show will run for four weekends at the Scripps Ranch Theatre through Feb. 19.
"We have done this production in conjunction with the Oceanside Theatre Company (OTC), so after the play runs for its four weeks in Scripps Ranch, it will run for three weeks at the OTC," Brombacher said.
Tickets for the show can be bought online at www.scrippsranchtheatre.org. 
"I'm hoping that this play can take the audience out of their everyday lives. To laugh, to applaud, it really takes you out of your life and into the theatre. You definitely have to bring your sense of humor for this, and it is great for all ages. This play really reminds you of humanity," Brombacher said.
Visit scrippsranchtheatre.org.