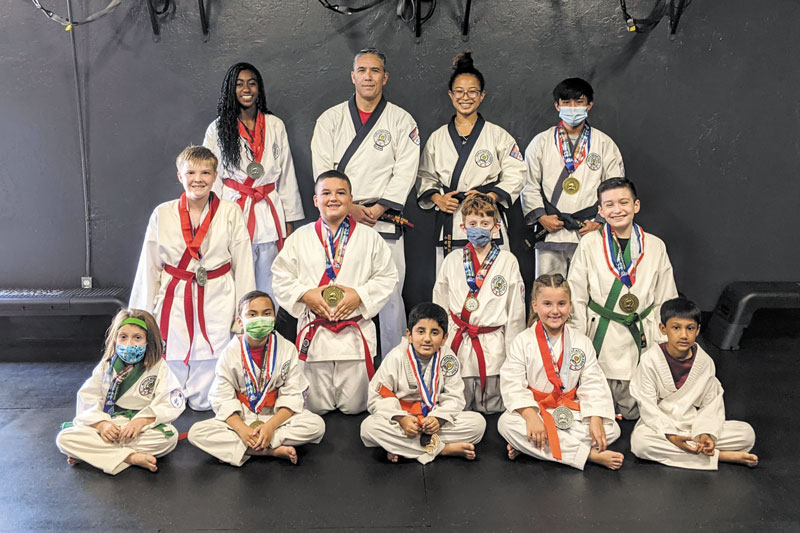 Martial arts students place in competition
Hard-working, dedicated, disciplined and focused are all adjectives which describe the students of Evolution Martial Arts, a Soo Bahk Do studio located in Scripps Ranch. Soo Bahk Do is a traditional Korean martial art that is practiced around the world.
Evolution is headed by Robert Maderazo – a certified master instructor. Students at Evolution have been training anywhere from one month to eight years and their ages range from five up to 20 years old. In July, 15 students from the Scripps Ranch-based studio competed in the second Soo Bahk Do (SBD) Virtual National Competition where more than 400 competitors from across the United States participated. Out of the students who competed from Evolution Martial Arts, all 15 placed first, second or third in their respective divisions. Three of the competitors were newly promoted black belts, and all three took first place within their divisions.
"I am most proud that my students have shown their dedication to their training and that they had the courage to compete," Master Maderazo said. "It's not about winning, it's about the student's hard work, dedication, commitment, discipline and the ability to stay focused."
Although COVID made training this past year a lot more challenging, Master Maderazo and his students trained online and outside, all while keeping safety top-of-mind and were sure to wear masks and socially distance themselves in the utmost safest manner. Whether training online or in-person, the students at Evolution demonstrated their dedication and commitment to improving their martial arts techniques – and it paid off in a big way.
Both the instructors and students plan on continuing their training to improve as martial arts practitioners and examples of model community partners, and to also apply the dedication and hard-work toward school and their life-long goals.
Evolution Martial Arts shares space with Evolve Fit & Nutrition, 10035 Carroll Canyon Road, Suite G.