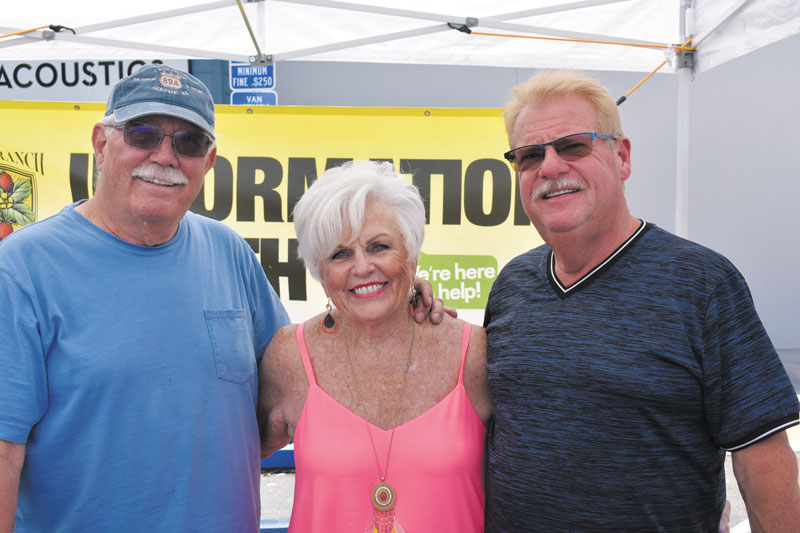 'New' Farmer's Market & Family Festival celebrates its first year 
By John Gregory
The "New" Scripps Ranch Farmer's Market & Family Festival will celebrate its one year anniversary on June 16 with special attractions.
On that day, each vendor will contribute something for free drawings, which will be held all day long for visitors, according to Beverly Cassity, Farmer's Market manager.
In addition, there will be several attractions, especially for children. Some of these include a caricature artist, a balloon artist and a face painter.
Cassity said she is also trying to book a live band, and she anticipates several new vendors.
"It's going to be really festive all day long. All the vendors are going to be decorated up. We'll have balloons everywhere," Cassity said.
The Scripps Ranch Farmer's Market offers numerous vendors of all types, including plenty of food booths serving cuisine from throughout the world. Farmers offer fresh produce and other vendors sell a variety of items and services each week. 
The "New" Farmer's Market and Family Festival celebrates its first year after launching in May 2021. Beverly and Mike Cassity, along with assistant manager Tim Mapes, are mainly responsible for running the market and helping to get it started – along with a big boost from Rick Moreno of Newtopia Cyder.
The Cassitys managed the old Scripps Ranch Farmer's Market, which closed in October 2018. The old Farmer's Market served as an ongoing fundraising project for Ellen Browning Scripps Elementary, with a large percentage of the profits benefitting the school. The former market was forced to close because the San Diego Unified School District board voted to redevelop the property where the market was being held at 10380 Spring Canyon Road, in the former Innovations Academy parking lot.
Now, The American Foundation for Suicide Prevention is the nonprofit sponsor of the market and beneficiary of some of the profits.
"We would like to thank all of Scripps Ranch from the bottom of our heart for supporting us and keeping us viable," Beverly said. "We need your support, and you gave it to us. Thank you so much."
Another upcoming special day will be The Old Pros Day at the Scripps Ranch Farmers Market & Family Festival on June 23. Shoppers may join in the fun with the Scripps Ranch Old Pros by registering for the Fourth of July Run & Ride events. 
The Farmer's Market will now observe new Daylight Savings hours of operation: 4 to 8 p.m. Visit scrippsranchfarmersmarket.com.
The Scripps Ranch Farmer's Market is held each Thursday at 10045 Carroll Canyon Road (next to Newtopia Cyder). Free parking is available across the street in the National University parking lot.