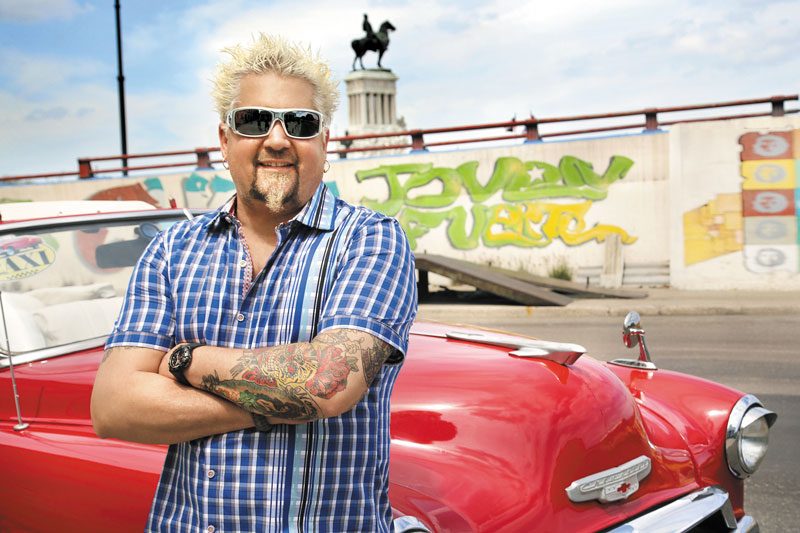 Nutmeg featured on 'Diners, Drive-ins and Dives'
By Patricia Overton
Nutmeg Bakery and Café is being recognized nationwide after hitting the small screen on the popular TV show "Guy Fieri's Diners, Drive-Ins and Dives."
The episode titled, "West Coast Wonder" aired Jan. 9 on the Food Network channel featuring the Scripps Ranch bakery and cafe and two of their signature items; Bananas Foster French Toast and the La Havana Panini.
Currently, the restaurant is offering a special in which customers can try a little taste of both. With such quality sweet and savory choices on the menu, there is no wonder this bakery and cafe is turning heads.
Behind the face of Nutmeg Bakery and Café are owners Drew Hoffos, his wife, Michka, and her mother, Shirin Soroushia, who are thrilled that their bakery and café is being recognized and are humble about all the attention they have been receiving.
The opportunity to be on the show came about when the owners, who are fans of the show themselves, were sent an email from the production company. Thinking it was spam, it almost got deleted. It was only after calling the production company that they found out it was the real deal. After a long process, Nutmeg was selected by Guy Fieri himself from a group of about 12 restaurants.
The filming, which had to be kept secret and lasted three days, was quite the memorable experience for both Michka and Drew.
"He's funny and very professional, and knows what he is doing and what he wants," Drew said when asked what Guy Fieri was like in person.
"The crew is super nice and fun. They come from all parts of the country and meet in one spot. They were just so friendly and made us feel very comfortable," Michka said.
The couple is very happy with how it turned out.
"It was fun to watch and just wished it kept going. Also, happy because in the end, everybody was surprised and didn't know how many steps it takes in making everything. Now everyone knows what we go through and that we don't buy things frozen," Michka said.
As a matter of fact, the owners have stayed true to their roots by only buying local and organic produce. The excitement of being featured on the show was well timed, especially after almost closing the Scripps Ranch location after the COVID threat when many restaurants struggled to keep their doors open. But now, Nutmeg is managing to bounce back stronger than ever.
"We've kind of just been single-mindedly focused on doing what we do, and we're going to always make stuff from scratch, always buy organic greens and shop local no matter what," Drew said. "We've been doing this for 10 years and we've never changed and then this happened, and it just happened organically which makes it mean so much more."
The creation and the success behind the family business seems to be the combination of all three owners coming together and doing what they know and love best.
"We weren't trying to be trendy. We were trying to do things the right way because we have kids, we want them to eat healthy," Michka said. "My mom taught me about eating organic and healthy my whole life. She's gluten-free, which is what inspired her to open a bakery that had gluten-free items. Drew brought the food and it's accidental magic how it all came about."
So, what is their favorite dish from the menu? Michka's favorite is the quiche, which they make in-house and is served with an organic salad. Drew's favorite is the shakshuka, which is an Israeli dish that he prefers with carnitas and avocado.
Since the show aired, there has been quite the increase in customers with people coming from as far as Temecula, Alpine and all over the coast.