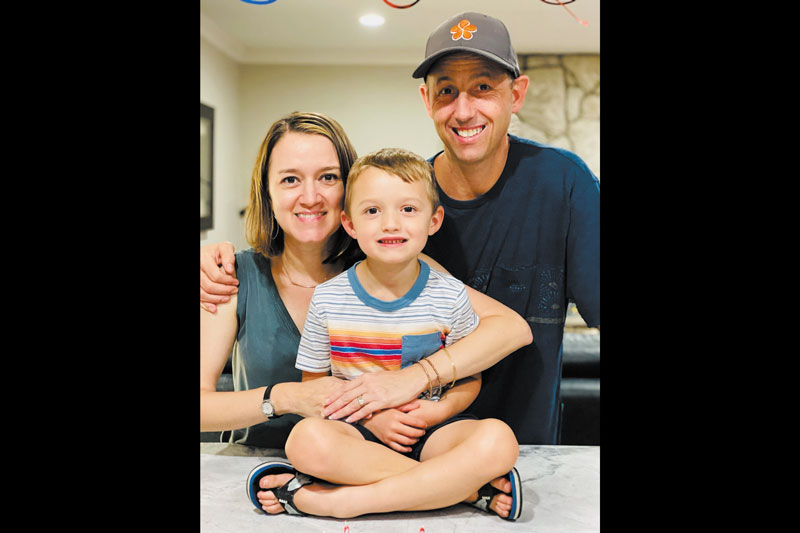 Outdoor unit transforms backyard into a party 
By Tedi Doychinova 
After a year of social distancing, Trace Mccullough hopes his outdoor cabinet system and bar combo will inspire folks to host get-togethers in their backyards.
Mccullough, who grew up in Scripps Ranch, is the founder and CEO of Cabinet Tronix, and made a name for himself over the last 19 years designing high-end hidden TV lift cabinet systems. His latest outdoor unit cleverly gives clients the mobility to enjoy and optimize their outdoor space. 
It is suitable for sports fans, outdoor enthusiasts, families, pool owners, and movie lovers.
Cabinet Tronix makes waterproof cabinets out of Brazilian wood. Mccullough chose this natural material for its durability. He said it can last 50 to 60 years. To allow for greater customization, customers can select from four different stains for their unit: stainless, natural, dark gray or dark brown.
To sweeten the deal, Cabinet Tronix offers a 10-year warranty on its lift system. This feature is what allows the TV to be lifted or lowered inside, depending on use.
Different versions offer a built-in fridge, a charging station for electronics, and the option to connect with Bluetooth. There is also a condiment section for appetizers and snacks, a high-end cutting board, an ice bin that holds up to 50 pounds of ice, and a bottle holder.
The two outdoor models offer similar features with one big difference.
"We swapped out the fridge for extra storage in our second model. Part of me really likes that extra storage. Part of me really likes the fridge," Mccullough said.
Another reason that Mccullough thinks that his high-end product can enhance any backyard is the "wow effect."
"When kids see it, it's like the Jetsons," he said. "They see that the ice is already there, the drinks, the condiments. It looks like a Transformer."
Come August, Mccullough will be settling into his new home in Scripps Ranch. He said he and his family look forward to installing an outdoor hidden TV lift cabinet in their backyard and hosting get-togethers.
The decision to move back was an easy one for Mccullough who is excited to reconnect with the community.
"I always knew I wanted to move back to Scripps Ranch, and reintroduce Logan to where I grew up," said Mccullough, who plans to take his son fishing in the same spot where he learned.
For more information about Cabinet Tronix, visit cabinet-tronix.com.