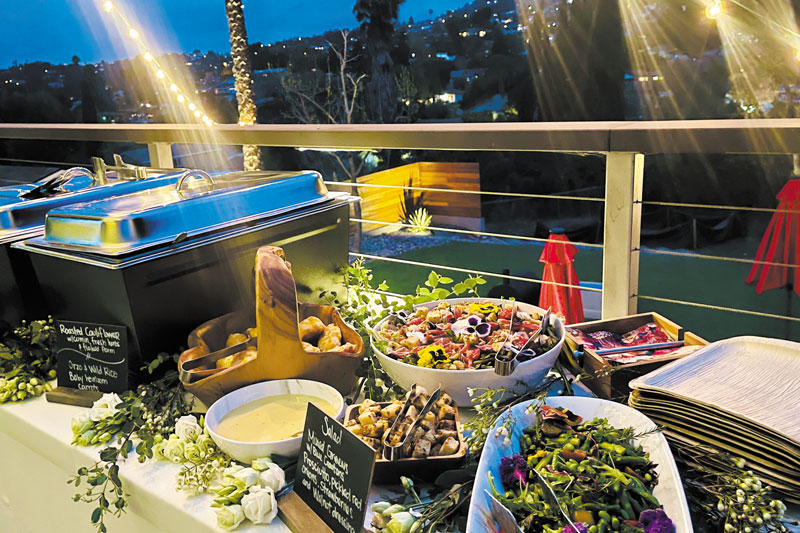 Pandemic inspired change for catering company
By Ashley Shah
Melissa Kasarda, founder of Emjaye Inspired, has been offering new and different services due to the COVID-19 pandemic.
Emjaye Inspired is a catering company located at 10455 Pomerado Road on the campus of Alliant International University.
"We had been working with Alliant for around three years just catering for events that they held. One day, they called me up and notified me that they were no longer providing on-campus housing and so they needed a new provider for food that had a smaller footprint. They asked us to open a cafe and our catering services," Kasarda said.
Prior to moving to Scripps Ranch, Emjaye Inspired was located in downtown San Diego.
"The Alliant property was a great opportunity for us as we had just left the property in downtown a couple months prior. I was able to work with them while still doing my own operations like catering," Kasarda said.
Prior to the pandemic, Emjaye Inspired focused on gourmet catering to communities in North County such as La Jolla, Rancho Santa Fe and Encinitas. The business provided private and corporate catering.
"We have used Emjaye Inspired for around five years for many of our events. I love how responsive and creative the team is. The food is delicious and we just keep going back to them," said Nicole Giangregorio, manager of women's support programs at Sharp Mary Birch Hospital.
Alongside catering, Emjaye Inspired operated the cafe and catering for Alliant University and also had wholesale operations for many breweries and coffee shops. However, due to the pandemic, Emjaye Inspired made a shift in its services.
"It was March of 2020 when the university closed (in-person), so our cafe and catering on campus shut down. Our catering took a back seat because most people were working from home. So, we decided to switch our business model," Kasarda said.
Emjaye Inspired opened Emjaye's Comfy Kitchen, a takeout and delivery service, still located on the property at Alliant University.
"I started the Comfy Kitchen in a time of uncertainty. I wanted to make sure there was a service that provided comfort food, so we have things like chicken dumplings, shepherd's pie, white cheddar mac and cheese, cake cups and more," Kasarda said.
Emjaye's Comfy Kitchen not only offers takeout and delivery, but also has outdoor seating.
"We were able to reutilize this 4,000 square foot area on Alliant's property that just wasn't being used. The space had been there forever, and no one was paying attention to it. So, we converted it into this beautiful outdoor seating area that attaches right to our restaurant," Kasarda said.
Not only did Kasarda start Emjaye's Comfy Kitchen due to the pandemic, but she also opened a unique travel trailer.
"The travel trailer is like an RV. It has multiple beds and we fully stock it with our catering. People can rent it out or we can deliver it," Kasarda said.
Kasarda has been supporting first responders through this time as well.
"We are working each month with many hospitals and the Amino Therapy Foundation to try and supply bulk meals to first responders and cancer heroes," Kasarda said.
She also began offering online cooking courses.
"We partner with local chefs and do these classes monthly over Zoom. We deliver meal kits prior to the class so that people are able to follow along. It's something to help people stay connected and engaged, yet still be in the comfort of their own home," Kasarda said.
The next cooking class will be focused on sushi and will be held on June 8.
Throughout the pandemic, Emjaye Inspired has continued some of its previous services such as catering.
"We really understand what our clients need. We want to give people as many options as possible," Kasarda said.
Kasarda has extensive experience in the hospitality industry.
"I was always in the kitchen. I worked as a chef in some high powered positions for years, but I found that this industry can be tough, especially on women," she said.
As a result, Kasarda left the kitchen, but not the industry itself. For several years, she worked in event planning, consulting and more. Kasarda founded Emjaye Inspired in late 2013.
For more about Emjaye
Inspired, visit emjayeinspired.com.