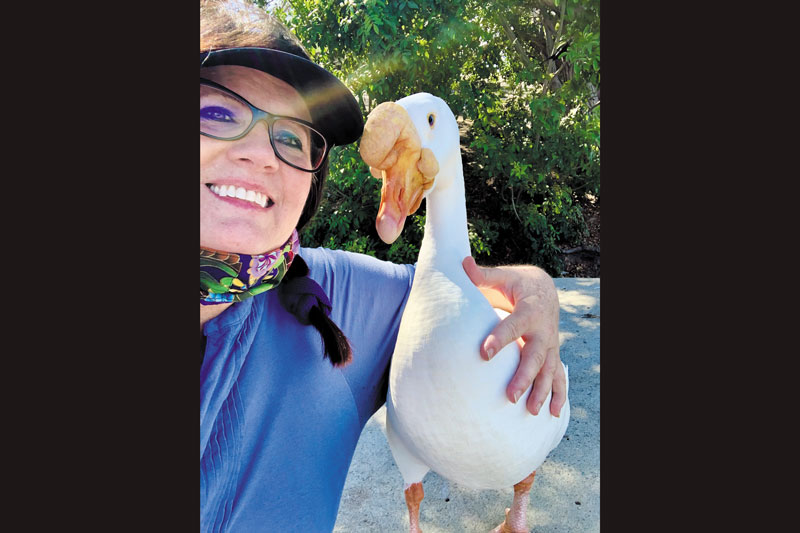 Picnic table dedicated to popular 'therapy' goose 
By Ashley Shah
The late Louie the Goose, a most beloved goose and a local to Lake Miramar, was recently honored with a picnic table dedicated to him at the lake following his passing earlier this year. 
After hearing about Louie's death, Scripps Ranch resident Kelly Allison decided to find a way to honor him.
"Louie was a special goose, and he meant a lot to people who came to the lake frequently. I wanted to do something that would help the community grieve through this," Allison said. "Originally, I wanted to do a bench. So, I put a GoFundMe out there for anyone who wanted to help with it." 
She was able to raise $1,700.
"Seventeen hundred dollars was the exact amount I needed for a picnic table," she said.
After talking with the City to get permission to place the table at the lake, Allison ordered the table in March from the company Outdoor Creations.
"Mindy [a friend] and I were able to get a plaque on the table that has a photo of him as well as the words 'For the love of Louie; he is forever in our hearts,'" Allison said.
The picnic table was delivered to the lake on Sept. 22.
"We are hoping to have a celebration now that the picnic table is installed. A lot of people have contributed to the picnic table, and I want them to see it," she said. 
Louie passed away on Jan. 24 after what many believe was an encounter with a coyote. A celebration at the lake was held on Feb. 26 to honor Louie's life. 
"We had a barbeque at the lake, and people came to speak about the effect Louie had on their lives," Allison said. "I didn't realize how many lives he had touched. There were women who said that Louie would walk them to their cars at night. If someone called his name, he would come out of the water to say hi."
Louie was a white Chinese goose, a unique looking creature. Many called him a therapy goose because he seemed to often bring comfort and hope to lake visitors who were experiencing difficulty in their lives. 
Mindy Dreisewerd, a frequent visitor to Lake Miramar, said she had a special connection to Louie.
"About six to seven years ago, I got laid off from work. I was in a deep depression, and one day I just needed to get out. I went to the lake. While I was sitting down, Louie came up to me, and the ranger told me that it was unusual for him to come up to people," she said. "After that, I started going every day. It was this immediate bond with him. He gave me a reason to get out of bed. He loved me, and I loved him. Life isn't the same without him."
Louie will be missed by the Scripps Ranch community and other visitors who were familiar with him.