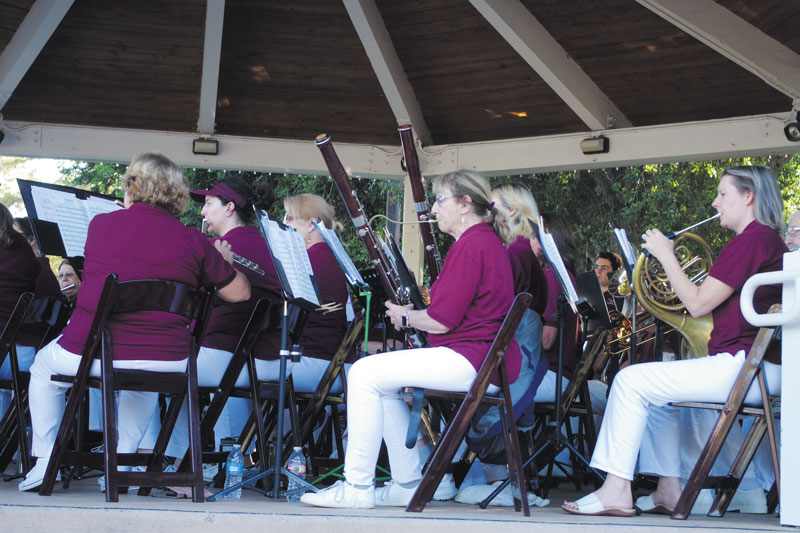 Pomerado Community Band: Good friends, good music
By Terry L. Wilson
The Pomerado Community Band (PCB) has been making music since 1990," said Dean Hickman, conductor of the band. "Our motto is 'good friends, good music.'"
Hickman began his musical journey at the age of six, squeezing notes from an accordion. Then he graduated to a trombone. A natural progression led to high school and college bands. The only time he didn't have a musical instrument in his hands was when he joined the Navy and was put into a submarine. They made him leave his accordion on the base.
"After the Navy, I went to San Diego State, played in the band and got my teaching credentials," Hickman said. "I then taught music for 33 years, retired in 2009, and for the past 32, the Community Band has weaved in out of all that. And I'm now conducting the band."
The Pomerado Community Band is comprised of approximately 70 members, primarily from the Scripps Ranch, Mira Mesa and Poway areas of San Diego County. While some of the band's members are professional musicians, most members have full-time jobs and just enjoy playing a wide variety of concert music.
"We had our first rehearsal in 1990," Hickman said. "We started with 30 members, and we got up to 90 just before the pandemic set in and we had to stop rehearsals in March of 2020. It's difficult to play a trombone while wearing a mask. The band had to go back and forth as the COVID pendulum swung back and forth."
Eventually, the band was able to get back together.
"One day we were good to go, come on in, have a good time. … versus masks back on everybody," Hickman said. "Now, with the relaxing of the mask mandates in the schools – because we rehearse in a middle school – that's what enabled us to get back into a regular rehearsal schedule. In post-pandemic, we've been rehearsing since last October. And we now have about 50 members."
The musicians range in ages from 12 to 80. Working without pay, they put in the long hours needed to perfect their presentation for their audiences and for the love of music.
"We are a volunteer organization, so people come and people go," Hickman said. "But we have a nice solid group, well instrumented, and we perform all over San Diego County. We play a variety of standard concert band literature. Over the course of the year, we've covered just about everything a concert band can do from serious band literature to marches to pop tunes and soundtracks from well-known movies. During the course of the calendar year, we have something for everyone."
Hickman and his troupe of musicians maintain a busy schedule, and that's the way the band likes it.
"We average five or so performances a year," Hickman said. "We did a holiday concert in December. We performed in the USS Midway Museum twice a year for their Memorial Day and Pearl Harbor Day remembrances. We host a festival of other volunteer bands in May in Old Poway Park. A couple of weeks ago we performed at the Old Organ Pavilion, and we finished our summer concert series in Old Poway Park on Aug. 14. We keep pretty busy, and that's the way it really should be. If you just sit there and do rehearsals and maybe two performances a year, it just doesn't get the blood moving quite as much as when you have a busy schedule to look forward to."
For more information, visit pomeradoband.org.