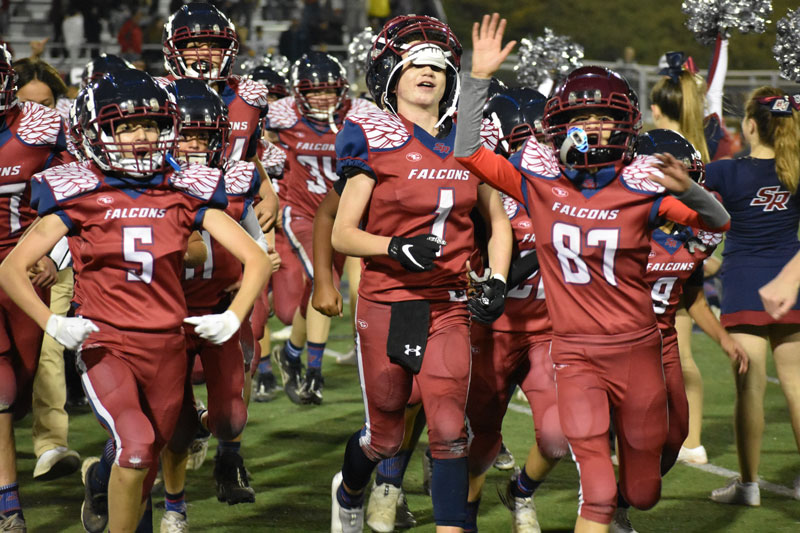 Pop Warner Football
CHAMPIONS!
The Scripps Ranch Pop Warner and Cheer Association 12u football team defeated the Coronado Islanders 7-0 on Nov. 20 at Scripps Ranch High School to capture the 2021 West Coast Conference Championship.
The game was tied 0-0 as the teams headed to the sidelines at halftime.
Scripps Ranch kept plugging away in the second half when a breakaway running play brought the Falcons into the red zone. Scripps Ranch got across the goal line by running the ball, then ran it again for the extra point.
While the game was tight, Scripps Ranch seemed to have control of the game as the team played with confidence on both sides of the ball.
Coronado tried desperately to even the score in the fourth quarter. The visiting team used a strange play in shotgun formation in which the snap seemed to accidentally slip to a large back next to the quarterback, who then took the ball and tried to run off the right side of the formation. The play was used at least three times in the last quarter and gained a few yards, but was ineffective for the most part.
Finally, the Islanders resorted to long passes during its last possession, but the Falcons defense would have none of it. Coronado turned the ball over on downs in the final seconds and Scripps Ranch ran the clock out with ease.
The coaches were ecstatic as their offense came to the sidelines when the game ended.
Following the traditional handshake for all players, families and players from both teams gathered at midfield as a West Coast Conference Championship official congratulated the players, coaches parents and volunteers. Scripps Ranch High School head football coach Marlon Gardinera was a surprise guest who led a brief fundraising auction for a gold colored football, and then addressed the Scripps Ranch players. Each of the Falcons players was presented a golden championship ring.
(photos by John Gregory)