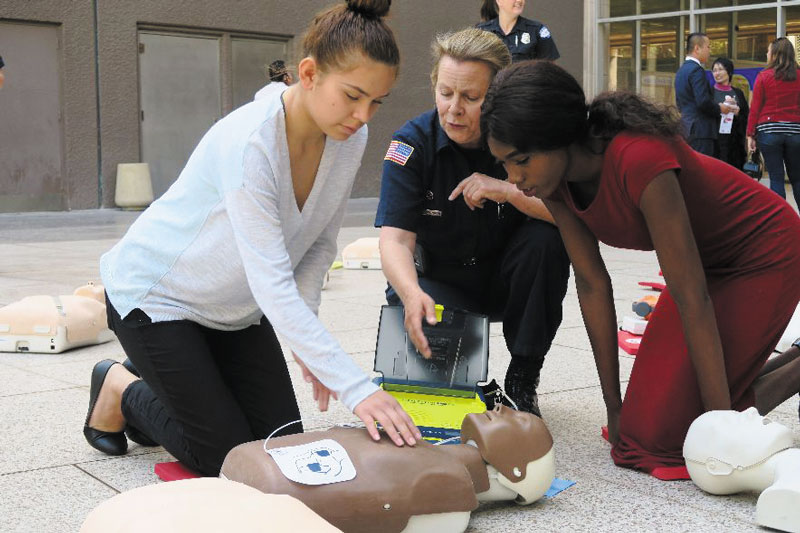 Project saves 200 lives in 20 years
By Colleen McNatt
It took one precious life in 1999 to save nearly 200 lives today.
Scripps Ranch resident Ron McElliott, a civic champion, active sports enthusiast and fan, succumbed to cardiac arrest after finishing a 10K race. Although CPR was administered by two fellow race mates, a portable life-saving device – called an automated external defibrillator (AED) – could have treated his sudden cardiac arrest and very likely saved his life.
An AED is a device that can be used by the general public to help a person who is experiencing cardiac arrest. A cardiac arrest is different than a heart attack. The cardiac arrest is when the heart stops pumping and starts "fibrillating" an inadequate rhythm to pump oxygen-rich blood to the brain and other vital organs. The AED provides a shock to the heart with the goal of restoring the normal heart rhythm, like rebooting a computer. This critical equipment works in conjunction with CPR compressions that help circulate blood around the body. Time is crucial and the person loses 7 to 10 percent chance of survival with each passing minute.
Ron's wife Karen was left a widow on that fateful day. She learned that an ambulance was assigned to the 10K race. It was equipped with an AED. Unfortunately, the ambulance was called away to a non-emergency event with the very life-changing device Ron needed so desperately.
These incidents of lives lost and lives saved have empowered Karen McElliott for the last 20 years. Like her husband, Karen was also active in the San Diego civic sector, and she leaned on these connections to honor her partner's life and legacy with a passion to provide AEDs and educate the community about how to respond to cardiac arrest and save lives.
In 2001, the very program Karen helped spearhead, San Diego Project Heart Beat, launched as a standalone, city-run program that is managed by the San Diego Fire-Rescue Department. Last month, San Diego Project Heart Beat celebrated its 20th year by providing more than 10,000 AEDs to the community and saving almost 200 lives, including three children while they were at school.
Although a city program, San Diego Project Heart Beat serves the entire county, also serving as a model to other regions nationwide and has received international recognition for its large public access of AEDs from the International Association of Fire Chiefs.
Maureen O'Connor is Project Heart Beat's program manager. She fondly calls Karen "Queen of the AEDs." The title may be tongue-in-cheek, but the organization's work is serious and critical in saving lives, including Dr. Ken Anderson's, another Scripps Ranch resident, who recently celebrated 11 years since his sudden cardiac arrest and life-saving event through the use of an AED provided through San Diego Project Heart Beat.
For years, AED equipment costs and fear of liability were roadblocks for regional groups in San Diego County. If there wasn't a funding source identified, many nonprofit and community organizations would not consider equipping AEDs in their programs. Costs can be shared by applying for grant assistance in which the nonprofit only pays 25 percent of the overall equipment cost. Other fundraising opportunities can also help defray AED costs. Liability risks have also waned.
"It's the best form of life insurance you can buy," O'Connor said regarding the return on investment of providing AEDs for public use.
In addition to providing AED equipment, San Diego Project Heart Beat trains 6,000 to 7,000 people each year in identifying cardiac arrest signs and how to respond with "hands-only CPR" and AED implementation.
For more information about San Diego Project Heart Beat, including grant assistance, or to make a donation, visit sandiego.gov/sdprojectheartbeat.