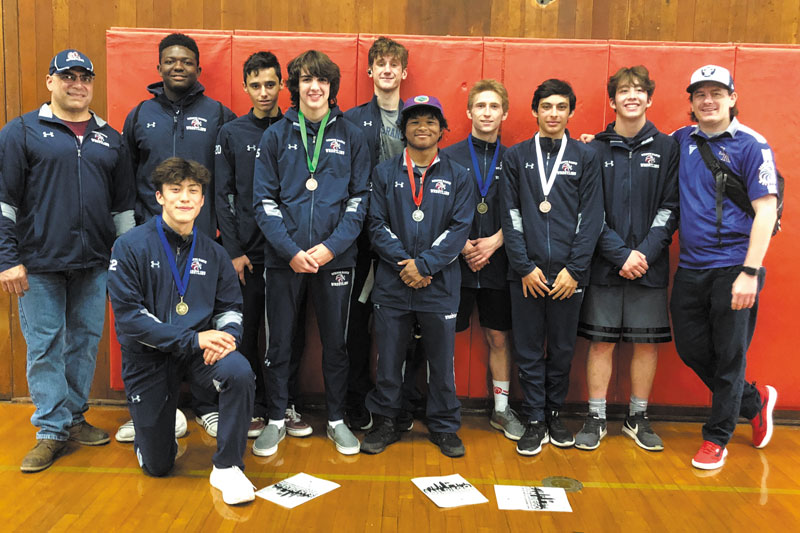 Proponents describe benefits of wrestling program
By Ashley Shah
The Scripps Ranch High School (SRHS) wrestling team is already gearing up to start the new season.
The team is in the pre-season, and the regular season starts Nov. 6, according to head coach John Kreitzer. They practice Mondays, Wednesdays and Fridays from 6:30 to 7:30 p.m. doing strength and conditioning. They also practice Tuesdays and Thursdays from 4:30 to 6 p.m.
"Anyone can come and join," Kreitzer said.
They have 18 wrestlers for pre-season, but they should have about 40 in the regular season.
Kreitzer hopes to get the wrestlers into pre-season competitions in October.
"I think that doing more and more competitions is a great way to learn and grow. You are able to see different styles and you get more experience," he said.
Kreitzer is working on building a strong foundation for the team.
"I am trying to focus on underclassmen and first year wrestlers that are sophomores. I think they are the foundation for the program. I want to get them in as many competitions as possible so that they can get a good feel for the sport," he said.
The team has its own wrestling room this year.
"I am really happy that the wrestlers have a dedicated room. It is something they can take pride in," Kreitzer said.
Wrestling is a co-ed sport.
"So far, I have three girls on the team. I think it's great. I'm hoping to get them in a lot of competitions. I think the future of wrestling is with girls," Kreitzer said.
He shared his goals for this season.
"I want to have a state qualifier. We have some powerhouse wrestling schools near us, and it's a long way to get there, but I know we can do it," Kreitzer said. "I also want to fill a roster. The best part of wrestling is that anyone can do it because we have different weight classes."
Coach Kreitzer has been with the team since the 2017-2018 season.
"We are always looking for more coaches and wrestlers. We rely heavily off of fundraising, and we're always looking to grow as a program," he said.
Kreitzer has always had a love and passion for wrestling.
"I grew up wrestling, but I broke my back when I was wrestling in high school and had to give it up. I started coaching and have been doing it for years. By only being able to coach, it has given me a different lens than someone who is able to actually wrestle," he said.
He described the benefits of the sport.
"I think the biggest takeaway is self-discipline. I think it teaches you a very strong work ethic, which is super important on all fronts. I always have my kids write three goals for the season, and I make sure that we stick to them and work on it," Kreitzer said.
Jeff Bristol, general manager of Fitness Quest 10 in Scripps Ranch, also shared his beliefs about wrestling as a beneficial sport.
"I feel like sometimes wrestling gets a bad reputation, but personally, it taught me a lot and it resonates with me," he said.
Bristol, and his brother, Teddy, grew up wrestling.
"I think another benefit of wrestling is that it is a great foundational sport. It teaches you mental strength, physical strength, flexibility, balance, and more that can be used in a lot of other sports," he said. 
Both attended universities on scholarships to wrestle.
"Wrestling for me and my brother was able to provide us opportunities that we probably wouldn't have had. We were able to get scholarships to go to good schools," Bristol said.
He has coached at both SRHS and Poway High School.
"There's a lot of good things that come out of being on that mat alone when you compete. It really teaches you humility, leadership and self-confidence. A lot of sports, you're out there with a team, but being alone and competing makes you learn these valuable traits," he said.
At Fitness Quest 10, Bristol has been able to get students involved in the SRHS wrestling team.
"At the end of the day, wrestling is just fun and it's a great exercise," he said.
Find more about SRHS wrestling: srfalcons.org.