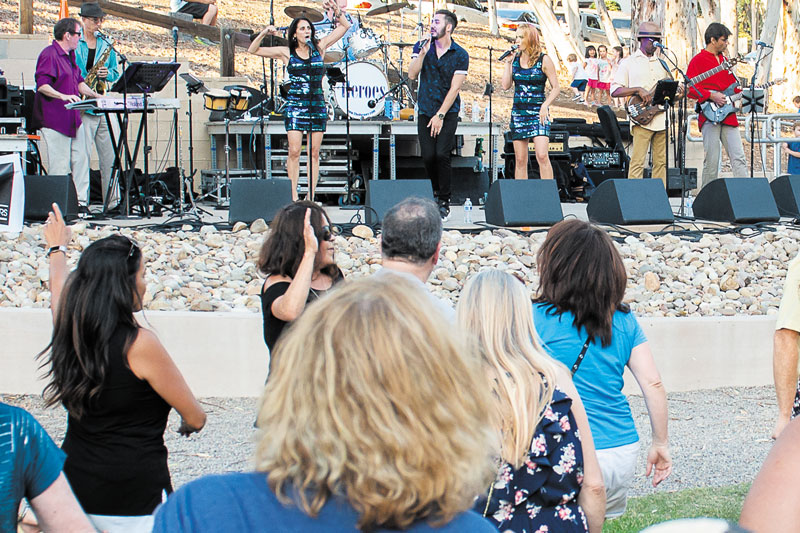 READY TO ROCK AGAIN
By Terry L. Wilson
The Scripps Ranch Symphony in the Park concert series is coming to life after being dormant for more than two years due to COVID-19 restrictions. So, dust off your dancing shoes and get out your picnic baskets because the 2022 season kicks off June 12 in Hoyt Park.
"After two years of cooling our heels, we are back and excited to carry on the tradition of live music, dancing barefoot in the grass and enjoying the company of our friends and neighbors," said Cheryl Shaw, member of the Symphony in the Park Committee. "What this does for the Scripps Ranch community is to bring back a sense of normalcy because this event has become a right of summer, especially after being isolated so much during COVID. This gives us a chance to celebrate how we were before the lockdown, and to have a nice time with our friends and neighbors at the park."
Symphony in the Park is a non-profit organization that relies on donations from concert sponsors to keep the music alive not only in the park but also in local schools.
"Each year our group donates money from our concert series to support music programs to help purchase instruments, music books and even uniforms," Shaw said. "We are an all-volunteer organization, so 100 percent of our donations go into putting on the concerts and school donations."
The Scripps Ranch Symphony in the Park concert series has a long history, once operating under more primitive conditions.
"In the beginning, bands performed on the back of a flat-bed truck. But thanks to the success of the concerts, all that has changed," Shaw said. "Now we have a really nice stage along with state-of-the-art sound equipment which is great for the performers, and of course, the park is large and a great place to sit and enjoy the show."
This year's lineup promises to keep visitors' toes tapping with a potpourri of music ranging from pop rock to '80s soft rock with a touch of country and '70s tunes.
"A lot of our bands are repeats, simply because they love performing there," Shaw said. "Tom Boyd is a Scripps Ranch resident and drummer for The Heroes, which is one of San Diego's most popular dance bands. Tom is on our committee and is the one who gets the talent for us."
Boyd and his bandmates will get the 2022 music series started in June.
"The Heroes play a lot of Top 40 dance music. It's the group you would go see if you just wanted to dance. I guarantee this group will have everybody on their feet, and they will kick off our concert series on June 12 – and it will be packed. They always draw the largest crowd," Shaw said.
"On July 10, Rebecca Jade and the Soultones will perform. Rebecca is a Scripps Ranch High graduate. I haven't heard Rebecca perform yet, but I'm excited to see her show," Shaw explained. "We try to present a variety of music. For example, her opening band is Novocain, a rock band whose members are all dentists that graduated from USC. That will be interesting."
High Tide Society will perform "Yacht Rock" – '70s and '80s soft rock hits –  on Aug. 14.
Wrapping up the summer concerts on Sept. 11 will be Eric Sage's Ultimate Rock Show, featuring headline entertainers that appear on cruise ships as they sail to ports around the world.
These free summer concerts begin at 6 p.m. and end at 7:30 p.m. at Hoyt Park.
The traditional Holiday Concert with Santa & Friends is scheduled for Dec. 11, 5-6:30 p.m. at Jerabek Park.
Scripps Ranch Symphony wishes to thank concert hosts Collins Family Jewelers (June), and Anderson Heating & Air (August), as well as this season's face painting host Barron Real Estate Group with Compass Realty.
For additional information, visit symphonyinthepark.org.