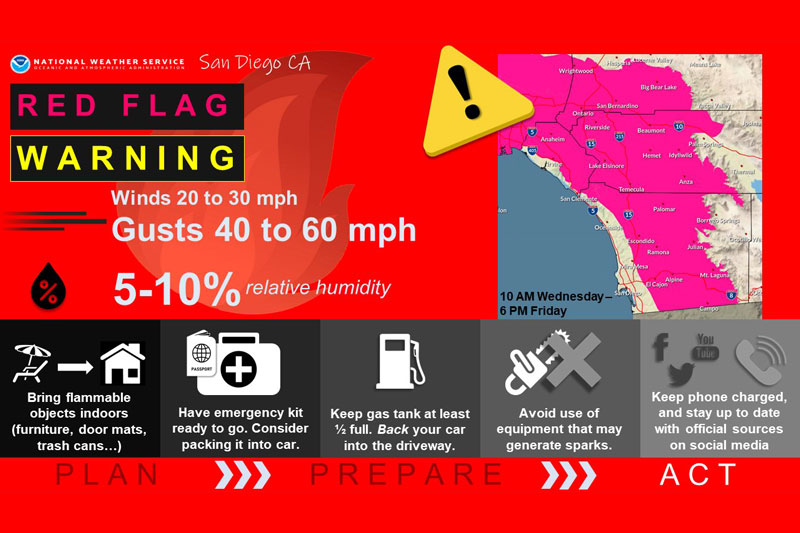 Red Flag Warning greets Thanksgiving
Critical fire weather is expected in Southern California today, Nov. 24, and Thursday, Thanksgiving Day, Nov. 25. These conditions may persist into Friday, Nov. 26, according to the National Weather Service San Diego Office. A Red Flag Warning will be in effect for San Diego County mountains and valleys from 4 a.m. Thursday to 6 p.m. Friday due to strong gusty winds and low humidity.
A Red Flag Warning means that critical fire weather conditions are either occurring now or will occur shortly. A combination of strong winds, low relative humidity and warm temperatures can contribute to extreme fire behavior.
Santa Ana winds are beginning to increase across parts of Southern California. Winds will rev up tonight through Thanksgiving morning.
Strong winds and stronger gusts will combine with low humidity to promote rapid fire growth.
Areas of east to northeast winds 20 to 30 mph with gusts up to 50 mph areas are expected in some areas.
The lowest daytime humidity will fall to 5 to 10 percent Thursday and Friday. Recovery at night will be poor.
The strongest winds are expected for late tonight into Thursday morning.
Any fires that develop will likely spread rapidly.