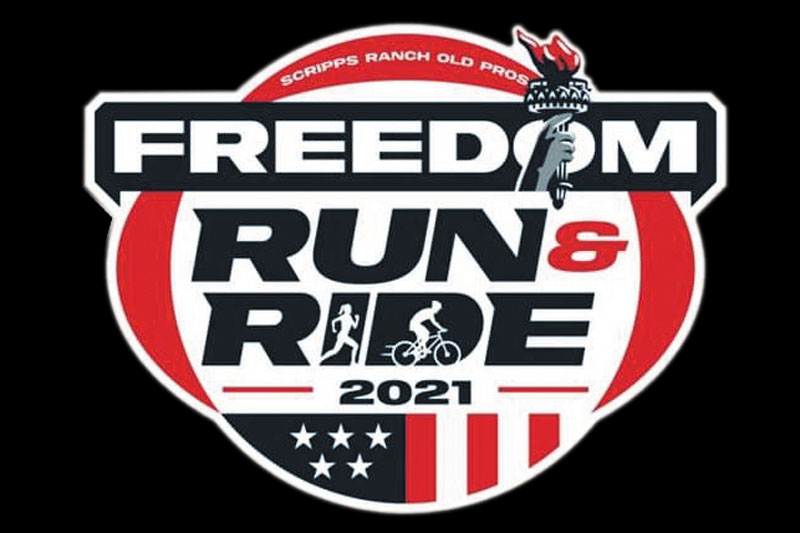 Run & Ride goes on again
By Bella Ross
Now in its 44th year, the Scripps Ranch Old Pros' Freedom Run & Ride has been nothing if not consistent.
The annual events – scheduled to take place this year between July 3 and 5, with its keystone event on Independence Day – persisted through the uncertainties of the COVID-19 pandemic and is returning even stronger than before. Last year was the first time the Old Pros embraced virtual elements, but it won't be the last.
"It's kind of expanded our breadth because friends and family on the East Coast, for example, can participate," said Brian Ondek, Freedom Run & Ride event czar for the Scripps Ranch Old Pros, which hosts the annual event.
Thanks to the State's full economic reopening on June 15, the event is slated to include some in-person activities such as a post-Run/Ride gathering in Hoyt Park on July 4. Those who choose to enroll remotely have the freedom to join in running and cycling events virtually from anywhere they'd like.
"This year, the freedom refers to the freedom to get out of the house and run away from COVID," Ondek said.
For a cost of $30 for adults or $15 for children, participants are able to join a running or cycling event of their choice and receive a free T-shirt, commemorative bib and access to more than $120 worth of free food and drink items at local businesses.
The process is easy: Participants can show their bib at any participating business and receive their free items – no purchase necessary – anytime between July 1 and 21. Freebies include everything from a pint of Juneshine alcoholic kombucha to a one-topping 10-inch pizza at Players Sports Grill.
"We hope it's a win-win for both the participants getting something for free – they don't have to purchase anything – and we also hope they go in and try something else that particular vendor has," Ondek said.
The run/ride portion of the event allows participants to choose between a 2-mile Fun Run or 10k for runners, or a 12-mile, 28-mile or 50-mile ride for cyclists.
The Scripps Ranch Old Pros are a 100 percent volunteer-run organization, and all the proceeds from the event will go toward funding scholarships for Scripps Ranch High School seniors and equipment and field maintenance for local youth sports.
Additional details about the Independence Day event in Hoyt Park can be found on the event website. To participate in the annual event, register online at runride.org.