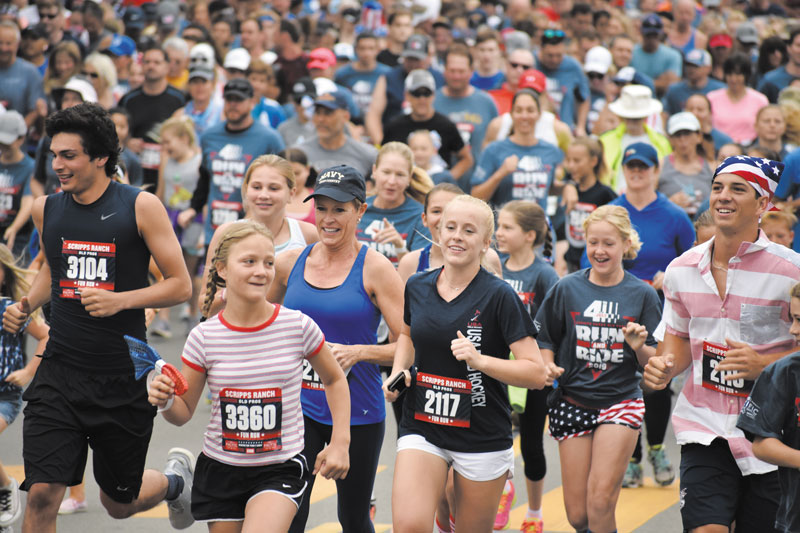 Run & Ride
By John Gregory
The Scripps Ranch Old Pros July 4th Run & Ride, a Scripps Ranch tradition, will return with in-person events – and signups will open in a few days.
This massive happening includes running and cycling events, all starting on the morning of July 4 in Scripps Ranch. Everything culminates with a celebratory festival in Hoyt Park.
The Run & Ride has been held virtually the last two years due to COVID-19 restrictions – registered participants ran or biked through the courses by themselves at a time of their own choosing. This year, the start of events with massed participants will be back in the streets.
The event's 10k run is one of San Diego's most popular races, as thousands of participants assemble for what has become a significant and popular run known to attract recognized competitors as well as weekend warriors, according to Anthony Gonzalez, Old Pros 2022 Run & Ride Czar.
The Run & Ride also includes a 2-mile fun run; and four bike rides: 12 miles (street), 28 miles (street), 28 miles (gravel), and 50 miles (street). All the events end in Hoyt Park with music and festivities.
The 28 mile gravel bike ride is the first new event added to the Run & Ride in 30 years, Gonzalez said. This trail ride for mountain bikes will wind its way through portions of Scripps Ranch and Poway before looping back to Hoyt Park.
"It's a perfect ride for those who like to ride but would rather avoid riding in the streets," Gonzalez explained. "There has been an increase in popularity of mountain biking within our community, so it seems like the right thing to do."
Eighty percent of the course will be along trails, going through Los Penasquitos Canyon Preserve trails, then on to Poway and back to Scripps Ranch.
Gonzalez emphasized the celebration in Hoyt Park, which is the traditional ending point for each athletic event on July 4.
"It's been two long years since we had our normal events," he said. "So, this year we will be including bands; the beer garden will be in effect; as well as entertainment for the kids such as bounce houses and inflatable slides. We'll also have concessions in the park such as ice cream and some food vendors."
More than 6,000 people participate in the Run & Ride each year, Gonzalez stated. The Scripps Ranch Old Pros donate more than $30,000 to youth sports and college scholarships every year from this event. The group also raises money for community youth and high school sports programs. The Old Pros is a nonprofit organization united behind friendship, and a love of sports, to provide Scripps Ranch with a combination of neighborhood leadership and civic service, according to Gonzalez.
Visit runride.org for additional information.