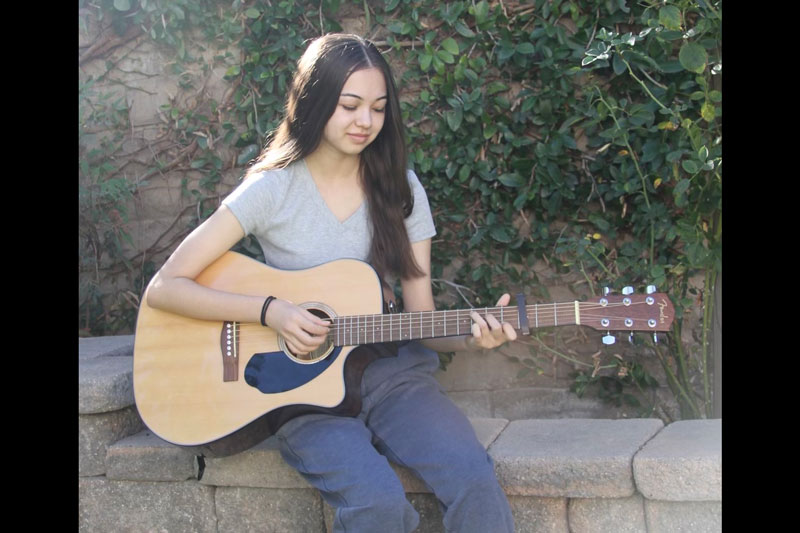 Sabrina Sterling: a rising musical artist
By Nick Ng
Sabrina Sterling was "internally screaming" when her single "Landslide" played on 88.5 FM. With more than 9,000 followers on Instagram and more than 310,000 streams on Spotify, the Scripps Ranch native shares parts of her life – mostly dating and friendships – simply with her voice and acoustic guitar at home.
Sterling is 16 and is in 11th grade at the Learning Choice Academy in Scripps Ranch.
With the help of her mother, Martha, and two of her friends, Sterling hired a video production team last summer to shoot "Ride or Die," which was shot in Scripps Ranch in one day. The video portrays Sterling sneaking out of her house to go bike riding, shooting hoops and playing a card game with two friends.
The video also features Griffin Lancaster, who duetted with Sterling; and Angelica, who is one of Sterling's closest friends.
Sterling explained the story behind the music video.
"I've never done anything cool, and I want to go out and do something, you know, typical teenager stuff," she said. "Being homeschooled, I don't go out very often."
"Ride or Die" reflects Sterling's feelings of missing out on some coming-of-age experiences in her teenage years.
"Like getting a driver's license," she said. "I want to drive like other teenagers. I wanna go to a party and I've never been to one and I probably never will."
Sterling started her musical journey in fifth grade with choir, and she learned to play the acoustic and electric guitars last December.
"I had a friend who played [a guitar], and I wanted to play," Sterling said. "It became a competition on who can play it better."
Drawing inspiration from songwriters and artists like Julia Michaels and Lizzy McAlpine, Sterling started to write her own music last May and has been posting some of her melodies on Instagram and TikTok.
"Lizzy's music is so inspiring and different from mainstream pop, and my music sounds a little bit like hers," she said.
Since she has been writing and posting her music on social media, Sterling has already garnered hundreds of thousands of fans worldwide, including nearly 185,000 followers on TikTok alone.
While Sterling has no plans to make another music video in the near future, she is looking for a studio to work in.
"Even if I didn't want to pursue music, like medical school, I always felt like I get led back to music," she said. "Not sure if I want to be a songwriter or national artist, but that's my goal and I'm working towards that. Music's gonna be my career and I think that's amazing."
Follow Sabrina Sterling on Instagram at @sabrinasterling and on TikTok at @sabrinasterlingmusic.